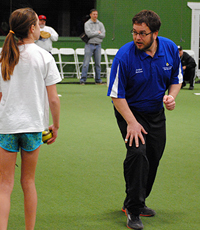 Thomas Judkins
Suffolk, Virginia Washington, North Carolina Benson, North Carolina
Location of facilities:
Double Play Training Ctr, 601 S. Wall St., Benson, NC 27504
Athletic Edge Sports and Fitness, 1100 W 5th St., Washington, NC 27889
Suffolk, VA  –  New Location TBD
Thomas Judkins has two very important qualities of a good instructor. He loved playing fastpitch softball and he enjoys teaching it even more. Thomas played sports all of his life, but fastpitch had special meaning to him, especially when his daughters became interested. When a daughter comes home wanting to pitch, suddenly you are hooked. Thus was the case with Thomas and he was able to enjoy the results all the way through college.
Thomas has coached on the recreational, travel, and high school level. Like many of us he paid his own way to many clinics to improve his skills, but it was when he attended a Tincher Pitching clinic that he knew he had found that extra something he knew was missing. Since undergoing training with our company, Thomas is seeing the kind of results from his students he always wanted.
A parent sent us this about their daughter's instruction with Thomas:  My daughter has been pitching in the back yard with her father and I for about a year now. We have tried her with a couple different pitching coaches to try and find the right fit for her. After talking to Thomas Judkins during a tournament back in Oct 2012 we decided to give him a try and see how it went. Needless to say, we haven't left! My daughter loves the new pitching style and the way she feels throwing the ball. She says that it is more comfortable and less painful and that it feels more natural. She also loves Thomas and the way that he teaches her! She has been with him for about a month or so now and she has improved so much, She is throwing more accurately and a lot faster than I have ever seen her throw before. And to top it off she is so happy that we have finally found where she should be! I thank Thomas for taking her on and I would definitely recommend him to anyone who is looking for a pitching coach for their daughter! He is awesome and we couldn't be happier to have him coaching our daughter!
 As a pitching instructor since 1996 I have studied several different coaching methods and drills to utilize with my daughter and other pitchers. Now that I have been studying under Denny's Fluid Dynamics program I have gained the confidence to take my students to the elite level. My daughter, who pitched at both the Jr. College and Division I level, said "…this new technique of pitching has made me feel more comfortable, loose and natural. I don't have to focus distinctively on every mechanical part of pitching and the overall feeling is great.

Thomas Judkins
Tiger Tom's Fastpitch Training
Suffolk, VA

Here is what Denny says about Thomas:  "We met Thomas at a camp. He watched the way we approached pitching and immediately asked if he could meet with me to talk further. We were having an instructor meeting that night so I invited him. By the end of the evening he was totally on board saying this was exactly the approach for which he had been searching. He was so excited to see the level to which our group had taken things and has shown a mastery of the concepts in a very short period of time. Quiet, curious, thoughtful, and serious about seeing his kids succeed. That is the way I would describe Thomas."