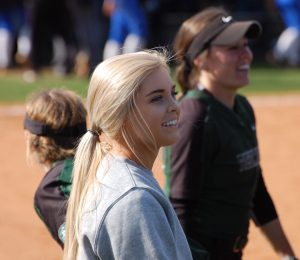 Taylor Waldrop is originally from Canon, Georgia. She began playing softball at the age of 7 and soon decided she wanted to pursue a career in the game. Led by the teaching of Tincher Pitching starting at age 13, she went on to play Division 1 softball at Tennessee Tech University. There she was a part of two NCAA regionals and was awarded multiple awards through the university and conference.
Returning to lessons after collegiate coaching for 5 years: 3 seasons at Piedmont University, 2 season at Elon University. While at Piedmont, the pitching staff accumulated 14 total conference awards and posted a 5th best staff ERA in program history in the 2021 season with a 1.77. At Elon, the pitching staff earned 6 total conference awards and posted a best staff ERA since the 2017 season in 2022.
Why did Taylor decide to work with Tincher Pitching?

 "I began working with Denny when I was 13. I was told most of my life that having the goal of a being Division 1 pitcher was out of reach, being only 5'4". Not only did I prove everyone wrong, I went on to have a successful Division 1 career. I can't imagine what my path would have been if I had not been a part of this organization. Where others seem to plateau with age, I was able to continue bettering myself, having my best season as a senior in college. This style of pitching helped me learn how to use my entire body to create power and explosiveness, something I really needed considering my size. The Fluid Dynamics approach of pitching is truly like no other. I love that I get to continue being a part of this organization by teaching the next generations to fully use their body the right way."

 

Denny is so happy to have Taylor on board:  "This was one of my earlier students.  To see this thing come full circle is so gratifying, especially when she was that extremely kid who defied all of the expectations.  She is patient, yet demanding, and so pleasant that kids immediately feel at ease.  Best of all, Taylor grew up in our systems, so she knows every aspect and does a fantastic job."
Taylor will be teaching in the  Mission Athletics facility in Stallings, NC, right on the edge of Charlotte.
Cell – (706) 716-0732