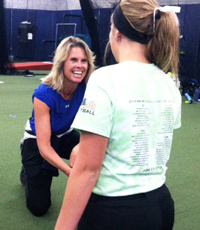 Suzy Willemssen
Fairfax Station, Virginia
Growing up in Waterloo, Iowa, Suzy was the first female to play in the boys baseball program. A four- sport athlete in high school, she was an all-state player in volleyball, basketball, and softball. Suzy subsequently played softball at the University of Iowa, where she earned a B.S. in Physical Education. Currently she is the head coach of 18u Glory Gold, an ASA Junior Olympic Gold Team, and at Lee HS in Springfield; plus Suzy has head varsity coaching experience at Chantilly, and Episcopal HS's. She is a certified tester/instructor for the Center for Sports Skill Measurement and Improvement, one of the nation's most innovative leaders in softball and baseball training.  And, is now a Certified Instructor for TincherPitching.
Suzy has over 39 years of experience as a player, coach, or teaching professional. In addition to giving private lessons, she has directed, or has been an instructor for numerous youth, high school, and college softball camps and clinics. She was also just nominated to be Fairfax County Public School's Female Coach of the Year and is an official developmental partner for the Women's Professional Fastpitch League.
"Being a hitting instructor who taught that players need to be fluid, flowing….having movements where the energy being generated was being allowed to flow through the body, out to the bat head then released to crush a pitch, I was intrigued by the way this guy named Denny Tincher taught pitching for it was extremely similar to my approach to hitting. I wanted to learn more about his thinking so I subscribed to his newsletter. Two months later I had Denny come to Northern VA to hold a Tincher pitching clinic and a marvelous journey was about to begin.

There is an old saying…."Give a man a fish, and you'll feed him for a day. Teach a man to fish, and you've fed him for a lifetime." With Denny and Fluid Dynamics, his passion is to teach individuals the principles that will lead them to answers, plus give them tools so they will be able to create their own solutions and make their own adjustments. Not just give the answer so the player receives little knowledge or tools to make self-corrections and long lasting.

For more than two years I have witnessed the tremendous growth of Denny's mission of educating players, parents and now instructors on how the body works, how it relates to making a pitcher more fluid, powerful and injury free— Fluid Dynamics. His instructor development program is taking his vision with Fluid Dynamic to even greater heights and I couldn't be more proud to be a part of his team."
Here is what Denny says about Suzy: I am both a friend and a fan of Suzy. She spent, literally, hundreds of hours studying with us, even before we began the pitching certification program. When Suzy does something, she does it right. It took a long time to convince her to step into pitching, but we knew she would do a fantastic job. She has easily exceeded those expectations. She is, simply, a great instructor.