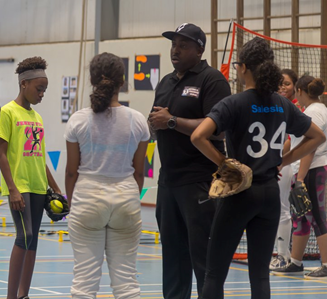 Patrick Girigorie was born and raised in Curacao (Netherlands Antilles) well known as the ABC islands, which are a small group of islands near the coast of Venezuela, where approximately 150,000 people live. Patrick is a former professional volleyball player and was a coach for a womens volleyball team for more than 15 years. Patrick is a Wellness and Sports Massage therapist and a Certified Kinesio Technician. Now, he is the pitching coach for the Little league Softball Selection and our National Softball Selection of Curacao. Additionally, he is now organizing pitching clinics for young athletes, helping them reach their dreams. Curacao has always has been dominant when it comes to baseball, but now it is time to advance softball programs as well. He is devoted in changing the softball pitching in Curacao, to not only have a better representation in the sport of softball for Curacao, but also give the young student athletes an opportunity to get scholarships in the USA or Puerto Rico as Pitchers.
Here is what Patrick has to say about Tincher Pitching:
My whole journey started when my daughter decided she wanted to play softball instead of volleyball, and she wanted to be a great pitcher. Very soon I realized many pitching limitations we have in our country when it comes to the in-depth knowledge of this technique. This was when I started reading various books, attending clinics in the USA and watching a lot of videos on the pitching technique to help my daughter with her dream. Through the journey of helping my daughter, I was requested to take over the training of all the pitchers for the entire team. Of course, I knew all that I have read and researched wasn't enough. I did feel that I had a lot of limitations and was not confident enough to be able to teach and train the young athletes the correct technique of pitching. Continuing my research, I found various links online leading to Tincher Pitching and came in contact with Denny who called me and became very interested in helping me to get the proper knowledge for teaching pitching.

During my first trip to the USA for a clinic with Denny, it was a mind-blowing experience and soon it was clear to me the difference between the conventional way and the Fluid Dynamics technique. Instantly I could connect my understanding of the muscles work in a human body, especially the woman and the fluid dynamics technique. This raised my interest and curiosity and was willing to do whatever it takes to understand in detail what this style was all about. Now I found myself so passionate about this way of looking at the pitching technique. Now I am helping the whole country in changing the way we see pitching in Curacao. The pitchers that train with me are gaining the benefit of all this and are unleashing an incredible speed, power, and well-synchronize motion naturally. I started my study and certification process with the Tincher Pitching since 2016. I thank the organization of Tincher Pitching and Denny for building me to become a pitching instructor, for increasing my knowledge on the art of pitching, for raising my love for the Tincher Pitching way, and for providing the missing connection of what pitching is all about. I am much honored to be a part of the Tincher Pitching world.
Testimonials from pitchers training with Patrick:
"Those who work with Patrick know that he is a perfectionist. Someone that will detect a problem and owns it until he is able to find a fitting solution for it. Someone who will transfer a level of confidence to his athletes that makes it very hard for them to doubt their skills or fail during tournaments. Someone who makes practices fun, enjoyable and endurable. I think the most valuable part of his guidance is that he tries to understand all the underlying aspects that compliments our performance. A few of these are not detectable during practices. The way he goes back, breaks down, analyzes, study, gives feedback etc. makes the quality of the work he delivers supreme.  I am grateful to be able to work with someone as passionate and driven as he is and I am very excited to see where his endeavors will lead not only him, but us as athletes that have experienced the pleasure to be guided by him."

–Leonella Elizabeth – Pitcher National Team of Curaçao
"My career as a pitcher began years ago, but when I met my Coach, Patrick all has changed. In my view Coach, Patrick is the best Pitching coach that I've ever had in my career as a softball player. He has always taught me always to give the best of my abilities. I am aware that I'm still improving and developing my pitching technique and I know that with his help and guidance I'll keep growing to become better. Coach Patrick is a great coach because he is very patient and has a contagious enthusiasm. With all his positive energy, mindset and knowledge of the pitching technique, he has motivated and guides me on the right path to win the MVP & Champion Pitcher award of 2018. Thank you, coach, to help me shine bright this year.  You are the best."

–Kiara Domacasse – MVP/Champion Pitcher award 2018 Regional Softball Competition Curacao
"Working with Patrick brought back the joy of pitching. After a couple of years off the field, I felt rusty and found it difficult to adjust. Thankfully, coach Patrick stepped in and took me under his wings. His eye for detail is perfect! He breaks down the fundamentals, by videotaping every step of the way. Gives you feedback and adjusts drills where needed. Even on stubborn days, he had the confidence of bringing the best out of me. He lets you believe in yourself but even better, he believes in his knowledge and brings this across in a fun and authentic way. A good mix of practice by working on drills, conditioning, and speed. All you have to do is listen, believe, act, and you will succeed. Patrick will do his utmost best to excel your skills to the best of your ability. Working with him is a joy and everyone who's lucky enough to do so, should never take this for granted. I can't wait to see what the future holds for him (believe big!), and for all the athletes trained by him."

– Richelle van Gennip – Pitcher National Team of Curaçao