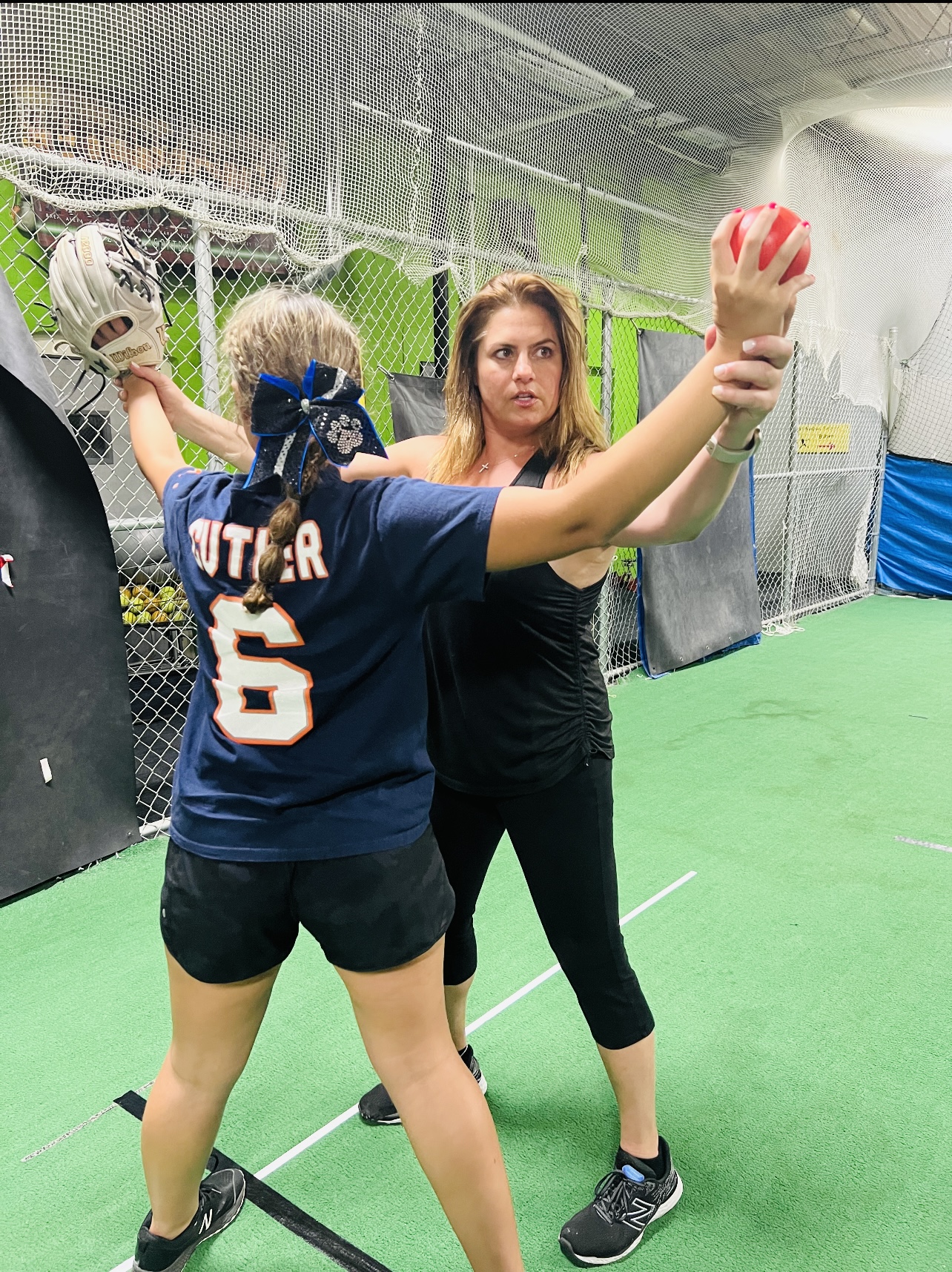 Kristie Spielman-Phillip is a former Division I Softball Pitcher out of Southern Illinois University-Carbondale. Kristie was ranked 15th in the nation her freshman year after coming off a dazzling high school record of 42-0 for West Chicago High School.
Kristie's passion for the sport of softball, and the human movement behind the art of pitching, led Kristie to further her studies in the field of Physical Therapy after receiving her BA in Exercise Science. Kristie's background includes 18 years working in an outpatient orthopedic setting as a clinical Therapist. Kristie has completed extensive continuing education courses for the treatment of sports related injuries in the young athlete, specializing in the throwing athlete. Kristie has been trained to analyze the biomechanics of the pitching motion and provide feedback on functional movement/mobility/stability/ and strengthening through sport specific drills and exercises to help her pitchers achieve their goals.
Kristie has been a Pitching Instructor for over 20+ years providing private and group lessons. Kristie sees clients in St. Charles, IL.
Kristie lives in Geneva, IL with her husband, 2 children, and family dog.
Why did Kristie choose to work with Tincher Pitching?  She says, " As I have been training/teaching private clients for over 20+ years I started researching on how I could grow as an instructor and provide my clients and their parents with the latest science behind the development and growth of a softball pitcher.

As I started to research online, and knowing a Tincher certified instructor, I realized that the Tincher pitching development system was the perfect fit. What resonates with me is the Tincher development system focuses on the pitcher as an individual and looking at the human movement behind how each pitcher develops uniquely.

Tincher Development System logically just makes sense. From a Therapist standpoint where I have rehabbed softball pitchers with overuse injuries and injuries related to poor mechanics, choosing Tincher gave me the opportunity to combine my love/experience for softball pitching with my educational background and passion for returning athletes to 100%.

Denny and the Tincher community continue to share exceptional knowledge and the latest up to date ideas around all aspects of softball pitching, from mental to the physical and everything in between.

I appreciate the fact that not just anybody can become Tincher certified, there is a process that goes along with receiving this higher level of softball pitching Instructor certification."
Denny had this to say,
"People like Kristie make the entire group better. The more we add people with that successful pitching background, who bring that knowledge of human movement, and who have a passion or finding better ways to do things, the better we will all be.  Kristie is a great one."
Contact information:
Spielmanpitching@gmail.com