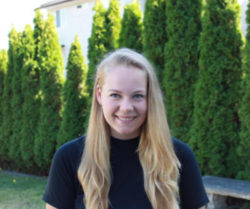 Kira Staley
Vancouver, British Columbia
Kira Staley grew up in Surrey, BC playing for the Surrey Storm Fastpitch Association in which she has played on the same team for 15 years and counting. She has been a very dominant pitcher having won multiple bronze, silver and gold medals at the BC provincial level. After high school, she pitched for the Douglas College Royals for two seasons and achieved a 23-1 record as a starter. In her freshman year she helped her team achieve a 32-0 regular season record which lead to their team being named Northern Region Champions and they would later place second at the Northwest Athletic Conference Championships.
Kira graduated from Douglas College receiving an associates degree in Sport Science and a bachelor's degree in Physical Education, Coaching and Kinesiology. She is now a registered Kinesiologist working towards gaining as much experience as she can in the health and movement field. She is passionate in learning about how the body works and how best to treat and avoid injuries/pain. Ultimately, she looks forward to continuing to grow and learn as a coach and pitching instructor. "I always knew I Ioved this sport but I became so much more passionate about it when I began teaching and seeing the positive impact I could have on my students. I'm excited to continue to learn from and for my students and to give back to this amazing sport, as it has helped shape the person I am today."
 Why did Kira choose Tincher Pitching?  She says,  "When I first started training with Tincher Pitching, my mind was truly blown wide open. I never could have imagined the possibilities and the new found potential I witnessed in pitching. I want to thank Denny as well as all of the other instructors I have had the opportunity to work with so far because they have sparked a new found passion for me in this sport, and I couldn't be more grateful for it. I am beyond excited to become a Certified Instructor and be able to represent Tincher Pitching in Canada. I am first and foremost a student of this game and I look forward to learning more and more each day to better myself as an instructor and as a human being."
 Here is what Denny says about Kira.  "She is so genuine, humble, and just loves the kids.  They relate to her instantly and she is able to draw great things from them.  They know she cares, she demonstrates the knowledge, and kids respond.  We are lucky to be surrounded by people like Kira".