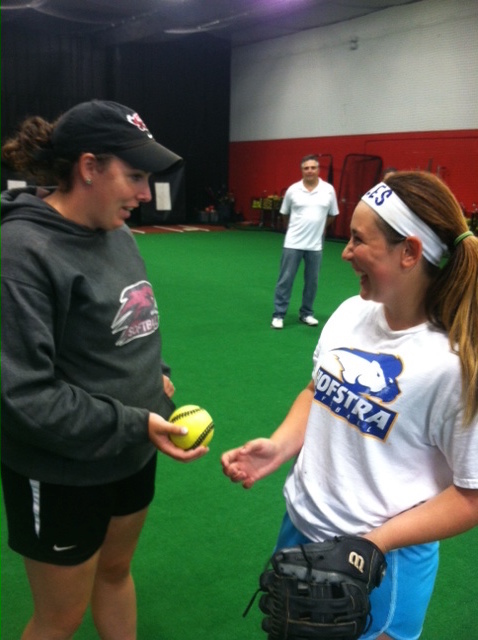 Jen Mineau
Philadelphia/Bridgeport, Pennsylvania
When it comes to great pitchers, Jen Mineau had an outstanding career that continued right on through the professional level with the Akron Racers. Her reputation as one of the best began in high school in Schaghticoke, New York, where she holds many state high school records, having taken her team deep into the playoffs regularly, and Jen enjoyed a perfect 25-0 record on the way to the state championship. As a her class Valedictorian, Jen was poised to make her mark in college.
Upon graduation, she attended Fordham University, where she was their number one starter for four years. She now holds virtually every single pitching record (career and single season) Fordham kept track of. This includes career marks for wins (101), strikeouts (1,390) and ERA (1.42). Over her four years, batters hit .161 against her, and she had an approximate 10:1 strikeout to walk ratio. She threw 10 No-Hitters, 5 of which were perfect games. As a Freshman, she was honored by Sports Illustrated for throwing a No-Hitter and a Perfect game in one week. Jen made her mark on the NCAA record books as well, being #4 all time in career perfect games (5), #15 all time in career no-hitters (10), and #16 all time in career strike outs (1390). At one point she threw 81.2 consecutive scoreless innings.
Jen was a 3-time All American and won numerous other awards, both for softball and for academics. Jen was drafted into the National Pro Fastpitch League and played for the Akron Racers, eventually retiring to coach full-time in college and continue her passion for pitching
After I graduated in 2012, I started coaching college right away. However, I was finding that all the stuff I had been taught wasn't helping the girls I was teaching. So, I did what I always do in times of uncertainty—I turned to the internet! After hours upon hours of video, I started to notice commonalities in pitchers that I liked watching and who were also successful. Clearly, these kids must be coming from the same place.

Eventually, I tracked a girl back to Denny Tincher and Fluid Dynamics. I went to one clinic and I was HOOKED.

That weekend, I started incorporating all the things I learned from Tincher crew into my own motion. I pitched a double header that Sunday, and I WASN'T SORE the following day. I hadn't pitched in months, yet my accuracy was better than in was in college, and my speed/movement was consistent. At that point, I was sold—lock stock and barrel.

Usually, at clinics taught with traditional styles, you have the top third of kids that walk out with improvements. Usually 1-3 mph if they're lucky, usually it's less significant. The middle third are told to "go home and practice more, and maybe you'll improve if you work hard enough." Then there's the bottom third, at which the instructors glance, shrug, and chalk their struggles up to non-athleticism.

With Fluid Dynamics, I have seen ZERO kids fall into that bottom third. Exactly ZERO kids have walked away from Fluid Dynamics without seeing immediate improvement (however small), or an immediate diagnosis of their problems. It's amazing—if you teach girls a style that works with their bodies, THEY LEARN. They IMPROVE. And most importantly, they don't hurt themselves!

If you're a parent or pitcher reading this, and considering trying it out, PLEASE DO. Give it one or two sessions, and you'll be hooked. I wish I had been taught this way to start with, and I'm never going back to anything else.
Here is what Denny says about Jen:  

"Jen is one of the truly great pitchers in the game at every level, but what sets her apart is that she is such a student of pitching. She is obsessed with developing better ways to do things. She asks great questions, challenges everything to make sure it works, and brings a wealth of experience that helps all of us do a better job every day. She is enthusiastic, creative, and has an amazing ability to break things down in a way that even the most inexperienced pitchers can understand. As our group continues to attract people like Jen, we will continue to take pitching to new levels across the country."