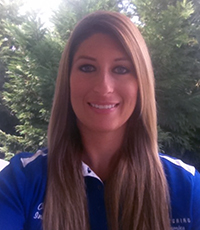 Carrie Markham Gutierrez is a graduate of Pfeiffer University in Charlotte where she earned by Masters in Leadership and Organizational Change.  Prior to graduate school Carrie attended Belmont Abbey College where she earned a B.A. in Sports Management and began her collegiate athletic career. She was a pitcher for Belmont Abbey, as well as an outfielder, and was named to the 2nd Team CVAC All Conference as a pitcher.  Also, while attending Belmont Abbey was a member of the volleyball team for four years and was awarded to the Conference Carolinas Presidential Honor Roll for both volleyball and softball.  Carrie began her coaching career in Charlotte in 2009 in before moving back to her hometown of Phoenix in 2012.  Carrie married Chris in 2018, who also works as a minor league baseball coach. Carrie offers lessons in the greater Phoenix areas.
Building Better Pitchers. As a collegiate pitcher, who learned to pitch from one of the top coaches in Arizona, I would watch Denny from afar and think he was doing just about everything the opposite of what I was taught and teaching others. I would think to myself, what is he trying to do to these girls?

But then I realized he must be doing something right after I learned of his demand from pitchers across the country. One Saturday I asked Denny if I can hang around and watch some of his lessons to see for myself what Fluid Dynamics and Tincher Pitching was all about. After observing, I immediately decided to begin a transition to Tincher Pitching.

While going through the certification program, I would think back to the times when I was a pitcher and vividly remember many times feeling like I could throw so much harder. I would watch another pitcher, who in my mind I would want to be as good as, and try to mimic their pitching style. I was never taught specific motions and an explanation for anything I was told would help me to throw harder. Denny breaks down every motion of the pitch from the backswing to placement of the feet and explains why each is so important to the effectiveness of the motion. One of the things I like so much about Tincher Pitching is there are always new and evolving ideas about the biomechanics of the female body and ways we can use it to build better pitchers. Fluid Dynamics not only is a style that allows the female body to move in its most natural positions but Tincher Pitching gives pitchers the resources to new and evolving techniques to help players reach their maximum abilities.

Carrie Markham
Tincher Pitching Certified Instructor
CMarkham@TincherPitching.com
602-828-0596
Phoenix, AZ
Here is what Denny says about Carrie:The enthusiasm with which Carrie adopted Fluid Dynamics amazed me.  Having watched her teach in the past, I was not convinced that she loved doing it.  When she began studying with us, I saw an entirely different side of her.  As she grasped the concepts and saw her students take it to new heights, she became totally obsessed with learning and training at every opportunity.  Today there is no question that Carrie loves every minute she spends with pitchers and the results she gets make us happy she is a part of our team.