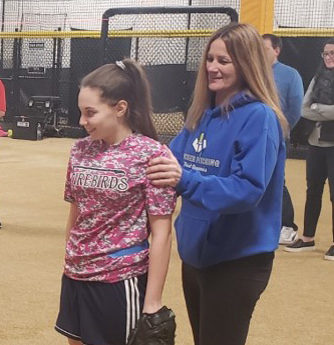 Carolyn Ruwe's knee injury might have taken her out of D1 dreams very early, but it did not impact her love of the game.  During her junior and senior years of college she had already jumped back into softball, this time helping coach a nearby high school team.  In order to continue learning, she was able to spend a lot of time at her college practices as well, preparing herself for things to come.  After graduation, Carolyn continued to work with players at many different levels.  Eventually, her own daughter showed interest in pitching so Carolyn wanted to give her the very best chance at being both successful and healthy.
Here is what Carolyn says about Tincher Pitching:  "When my daughter expressed an interest in pitching,  I started her in the way I was taught.  I came across Tincher Pitching while on the computer one day and it piqued my interest.  I set up our first training session and I was hooked.  The reasons and the research behind the movements that Denny teaches made so much sense.  My daughter and I continued in the Tincher style and have never looked back."
Here is what Denny says about Carolyn:  Perhaps it is because injury ended her career early, perhaps it is because she is the mother of a pitcher, but Carolyn is driven to be the best.  She asks insightful questions, she absorbs so quickly, and she does things right.  When we work an event together, I can give her the most challenging cases, knowing that in just a few minutes the difference will be huge.  Best of all, she relates to kids incredibly well.