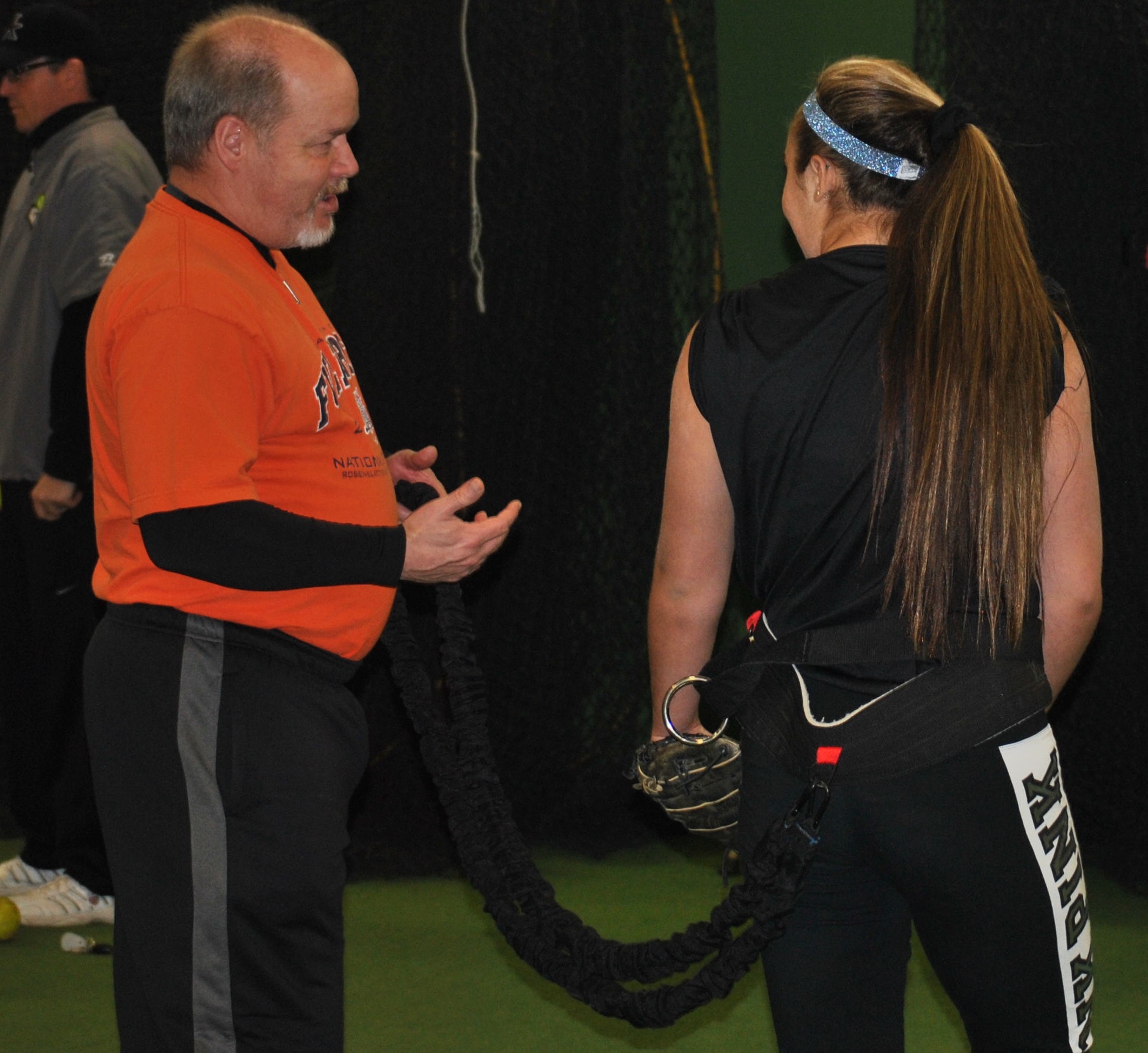 Originally born and raised in Southern California, Brett was introduced to softball while attending California State University, Fullerton (National Champions 1986).  Having transplanted to the Raleigh, NC area in 1990, he has been involved in the growth and development of softball in NC for the last 25 years.  During this time, he has coached various age levels of travel softball, conducted camps/clinics, and provided private lessons.  He has helped guide 2 daughters (both pitchers) through their softball careers.  Both are still involved in the game today; one as a travel coach/instructor and the other as a D1 coach.  Brett has a strong commitment and love for the sport of softball that can be seen in the time and effort he puts into his students.  He is devoted to providing the individualized/targeted instruction that is required to help each player reach their goals and to play at the next level.  His approach is focused heavily on the mental aspects of the game and covers both on and off the field development.

From Brett:  "I first learned the mechanics of pitching back in the later 80s when my daughter wanted to learn how to pitch. She took her lessons from an instructor who had a daughter that was an All-American at the University I attended who had just won a National Title. My daughter went on to pitch in college and is now a DI coach. Even with the success of having 2 daughters who pitched, I always knew something was missing. A couple of years ago my older daughter contacted me and told me that I HAD to get up with a guy named Denny Tincher out of VA.


I knew about his daughter Angela, but knew nothing about Denny. So, I looked him up online. Fluid Dynamics? Never heard of it. However, reading more about it online I knew it had to be what I was missing all these years. And so, I contacted Denny and based on my daughter's referral, he invited me to attend one of his sessions so that I could see what this Fluid Dynamics was all about. It didn't take long for me to realize that, even though the terminology was different, that we both believed in the same basic principles of pitching. But did it offer me what I felt I was missing all this time? YES!! The way that Denny incorporated the female anatomy into pitching… where it was strongest… weakest… how their joints worked differently than the male anatomy… and how the 'traditional' way of teaching a female to pitch was wrong (which inherently I always knew) and why Fluid Dynamics was better. EUREKA!!! I had found it. The missing part of my pitching knowledge/philosophy. This WAS the answer. Having now re-invented my approach to pitching, I have seen the evidence in my own pitchers … all of whom now throw with Fluid Dynamics. Pitchers who have come to me having thrown with pain in the past… are now pain free. Pitchers who threw with little or no power… now throw with explosive power.

I know that there are many methods of instruction out there. However, not only is Fluid Dynamics the best way to pitch… in my opinion it's the ONLY way to pitch."
Here is what Denny says about Brett:

When one of our current Certified Instructors recommends another person for our program, we pay attention.Brett Anderson was put forth as someone with an extensive background in softball on both the west and east coasts, so we wanted to meet him.After working extensively with Brett, we found someone who shared the same philosophy.Brett wasn't happy with many of the traditional methods and had already begun to explore alternatives, so his transition was incredibly easy.As we explained ways to eliminate barriers, enhance performance, and better ways to help kids succeed more quickly, we would often hear Brett say "aha" as he filled in some of the missing pieces of the puzzle.Before long he was helping us find ways to connect the dots in ways we had not considered.Experience, innovation, enthusiasm.That's Brett.
Here is what Parent's say about Brett:

"My daughter Jana is a 12U pitcher who has been told she is too small to pitch. She is too weak. She is too short. She stands 4′ 6" and weighs 80 lbs. She has went to a couple coaches and they all just go through the process of a lesson without taking a vested interest in her. Stand by and collected the cash week after week. I have researched and researched trying to find a coach. Most coaches that played softball in College think they can coach pitching for the younger on…es. Not so much. It's much more than stand on the mound and throw it to the plate. That's when I found Denny and Tincher Pitching. So, I took another chance and called him up. In one phone call he understood my needs and said "nonsense bring her to me." Well, in less than a month I did my first introductory clinic on Fluid Dynamics. It has now changed Jana for life. After our first clinic Denny introduced us to Brett Anderson. He is a certified Instructor with Tincher Pitching. We drove to Raleigh to meet him for a lesson and the rest is history. He took her for an hour and a half and changed this kid forever. She has now gone from a practice day pitcher to a tournament pitcher. She helped her team win an A Bracket Gold this weekend in her travel team Tournament. She works HARD and has come so far since she has been with Brett. He taught her to use the natural movement of her body and explode into power. We will never go anywhere else. And the best part he is vested in Jana. He wants to come see her pitch in a game. Love this guy to the moon and back."

"My daughter Kelsie has been with Brett since she was 11 years old. He was her first pitching instructor and will be her last instructor. Kelsie is currently 15 and playing 18U showcase tournament ball. Brett has done an amazing job with Kelsie, physical, emotionally, and mentally for her goals in softball. She has a condition that doctors said she won't be able to pitch well or to with stand the physical strain that it would do to her body. Brett has worked with her body style and fundamentals to resolve any and all pain it used to cause for her to pitch anything but a fastball. Brett is considered one of our family members, if you are looking for an instructor that is dedicated to your child this is your man! I look forward to having him at our daughter's college signing."

"At a tournament this past weekend Madison threw 25 pitches had 4 strike outs and NO walks. I was told by another softball mom that she looks faster with less effort. Her mechanics seem to be smoother. I could see it coming together during practice. Parents were asking what is she doing different? Where did the speed come from? With only two lessons from Brett Anderson and a lot of practicing based on Brett's instructions, it finally clicked! She started believing in herself, believing in her abilities, and trusting her instructor. Small steps, but creating an excellent foundation for a promising pitcher. Very proud of Madison aka Mad dog." – Kimberly Guard