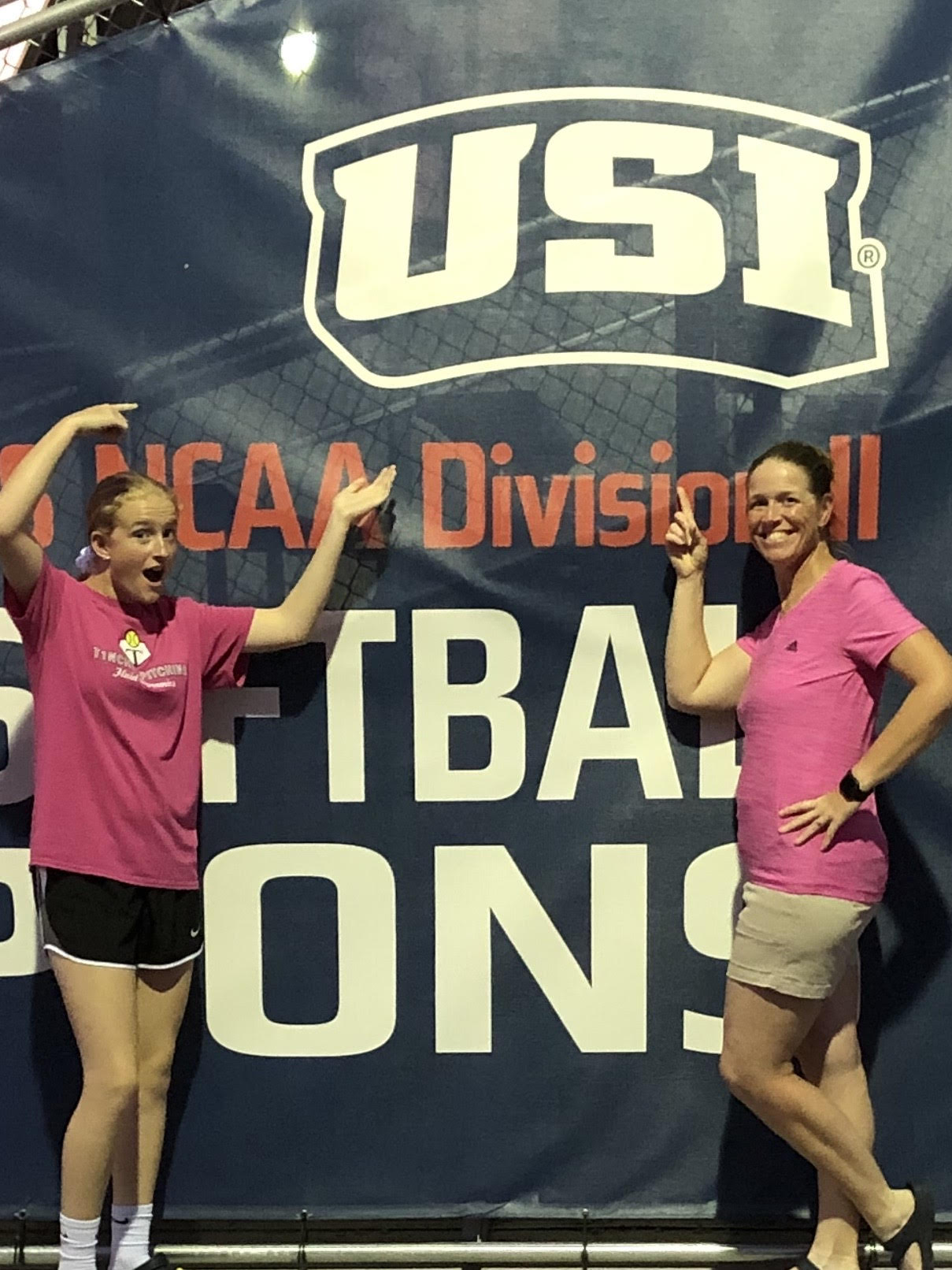 Amy Harper had a very successful career.  Starting travel ball at age 13 for
Indiana Magic, her team was able to win many tournaments and finished 3rd in
the ASA nationals in 1995.  She continued her softball career at the
University of Southern Indiana where she was recently inducted into the
Athletic Hall of Fame and still holds several records.  Amy was a two-time
All-Region and three-time All-GLVC performer. She continues to hold the USI
season records for ERA (0.68), complete games, shutouts, and wins. Amy also
holds the career record for ERA (1.21), wins and shutouts, and holds the
record for 51.1 consecutive shutout innings.  She helped the team earn a
berth in the 1998 NCAA II tournament. Amy earned her Bachelor's degree in
accounting and came home to work and start a family.  She married her husband, Brad, in September 2001 and they have two children, Melissa (MJ) age 12 and Nolan age 9.  Amy currently coaches her daughter's travel
softball team and works with area pitchers.
Here is what Amy says about joining Tincher Pitching:   "I always questioned why so many pitchers (including myself) were sustaining injuries when windmill is a "natural" motion, which is what allows us to throw more than baseball pitchers.  When I had Tommy John surgery in college, the ortho surgeon told me that I was the first female to require this type of surgery. I didn't understand why or how I could be in this situation.  I continued to play and coach girls the way I had been playing my entire career, but when my daughter started pitching and began to have shoulder pain at age 9, I knew I needed to do some research and discover a better way for her and the other kids I was coaching.  That's when my husband and I discovered Denny and Fluid Dynamics.  This group of instructors are always looking for ways to improve the process and helps kids across the country to be successful and do so without pain.  I am forever grateful to have found and been able to learn from Denny and to teach this fluid method to my students."
Here is what Denny says about Amy:  "If I could use one work to describe Amy it would be genuine,   in every way.  As a pitcher, she was fantastic.  As a person, what you see is what you get.  Immediately you recognize a real dedication to helping kids reach higher, and she communicates in a way that has everyone smiling and feeling positive, confident that she is taking them in great directions.  The very first time we trained together I was impressed with how she listened carefully to every detail, thought things over carefully, and even tried many of the moves so she could find the best ways to introduce these concepts to her kids.  Very simply, Amy represents us so very well."