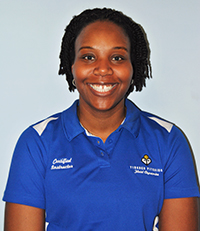 Adrienne Walker-Chery
Atlanta Metro/Norcross, Georgia
Adrienne is a University of Tennessee graduate with a degree in Advertising; Inaugural member of the Tennessee Lady Vols Softball program (1996-2000); Class of 2010 Lady Vol Hall of Fame Inductee.  Adrienne elected not to play high school softball but earned a full-ride scholarship to play for the Tennessee Lady Vols through travel ball. She recorded first no-hitter in school history in 1996; was a first-ever University of Tennessee NFCA All-South Region Hurler; Earned First-Team All SEC honors and multiple SEC Pitcher of the Week accolades; Ranked sixth in Division I with a 0.71 ERA; Still ranked in the top 10 in the UT record books in a number of statistical categories including third in Tennessee single season ERA, 0.71 (1997); third in complete games (61); fourth in solo shutouts (16) and fifth in career ERA (1.97), career appearances (108), career starts (87) and career wins (54).
In 2008, Adrienne was recognized for contributing to The University of Tennessee Lady Vols legacy, in a limited tabletop edition of "In the Footsteps of Champions: The University of Tennessee, the First Three Decades". Adrienne is currently a full-time pitching instructor and the founder of Today's FACES Academy, a youth sports organization dedicated to promoting education & sports.
A Breath of Fresh Air. In 2010 I had the opportunity to host a Father-Daughter Pitching Clinic with former Virginia Tech standout, Angela Tincher and her father, Denny. It was from that opportunity, that I knew that the Tincher family had a different outlook on the fastpitch pitching motion. Everything from their terminology to their drills was different, and typically that's a red flag for me. However, the more they spoke and demonstrated things, the more intrigued I became with their approach. As a former DI college pitcher and now full-time pitching instructor, the Tincher Pitching approach has often made me reflect on what I actually did as pitcher versus what the industry says you should and should not be doing. Being privileged to such extensive research on the female biomechanics has changed the way I look at pitching in so many ways and at the same time it has confirmed why I was successful in my own approach to pitching ata  young age. Sadly, it also makes one realize just how far behind softball is in the area of biomechanics compared to other sports.

Like many instructors, I believe it is important to remain a student of the game. Unfortunately, with so much of the conventional wisdom out there the potential of so many kids is being limited and sadly causing some to become injured. I am excited and truly grateful that I am able to pass on such extensive research on the female biomechanics to my students at such an early age. Having a true understanding of how the female body works changes everything from their confidence to their potential. My current student base ranges from ages 8-17 years old and regardless of the age, I am seeing my students grow in areas that they have often struggled with or in some cases where they have hit plateaus. The Tincher Pitching approach is the breath of fresh air that the fastpitch softball community has longed for and I'm honored to be a part of the team!
Here is what Denny says about Adrienne:  Adrienne was one of the reasons we began our certification program.  She was so committed to doing a good job that she began studying with us before we even thought of conducting formal training.  At the introduction of our certification process, she was on board immediately.  Adrienne is wonderfully patient, excited about new concepts, and dedicated to her pitchers.  Her accomplishments are many, but Adrienne carries the enthusiasm of someone who is just starting in the game.  She works with a relaxed confidence that helps her pitchers believe they can do anything.