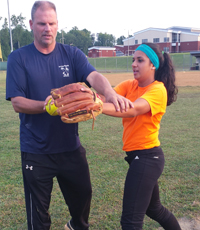 Ritchie Jacobs attended Groveton High School where he played both basketball and baseball. His father, William Jacobs, who was drafted by the Pittsburg pirates as a left handed pitched in 1952, inspired his son to participate in sports. After high school Ritchie jumped right into coaching at local club and travel leagues. Ritchie settled into softball because of his 2 daughters Jessica and Brittany after coaching many different sports over the years. Since he and his father were both pitchers, Ritchie decided to become a fast pitch softball coach and pitching coach. After many years of coaching travel softball Ritchie moved in to the high school softball scene coaching at both Fredericksburg Christian High School and Riverbend High School. Ritchie then decided to further his coaching career by becoming the assistant and pitching coach at the University of Mary Washington.  Ritchie coached on the collegiate level for for 4 seasons but because his daughter received a college scholarship to play softball, Ritchie stepped down in 2014 to watch his daughter play and to become a full-time Tincher Pitching Certified Instructor.
From Ritchie: "After becoming a high school softball coach I tried to learn how to teach softball pitching. Having been a baseball pitcher I learned from my father that mechanics are the most important part of pitching.  I embarked on a very frustrating journey to learn how to teach windmill pitching properly.  But one night I was watching the U.S. Olympic softball team totally getting confused on national TV by a 5 foot 8 pitcher, Angela Tincher. SO, I asked myself, who taught her how to pitch?  I found out her dad was her teacher.  I called him and he answered.   I said, "I want to know what you know about pitching because your daughter is amazing".   He asked what I was doing on the weekend and asked me to "get some pitchers together and I'll come to your house ". That was 6 years ago and I've seen a new light into pitching every time we train. Fluid dynamics is truly the way to pitch. Efficient, accurate, effortless, dynamic, and just a true no -brainer on how to pitch without injury. Denny is a true teacher of the art of pitching and is in it for all the right reasons.  It is the first real change I've seen in pitching in a very long time."
Here is what Denny says about Ritchie: Ritchie seems to get more excited about the game every time I see him.  He loves teaching, is always asking questions about how to do it better, and volunteers to come to many of our events just so he can keep up with new techniques.  He celebrates the accomplishments and scholarships among his students as if they were his own daughters.  Ritchie wants to do it right and that is a quality we love among our instructors.