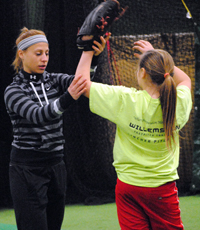 Larissa Porcelli
Westchester, New York Hopewell Junction, New York
Larissa Porcelli pitched for Yorktown High School in Westchester, New York where she led them to their first ever section A championship two years in a row.  While pitching there she earned All Section Pitcher three consecutive years.  Larissa went on to play collegiate softball for Pace University where she graduated in 2012 with an Education degree.  Since college, Larissa has been providing private pitching lessons and received her Personal Trainer certification.  She has a lot of passion for the fitness part of the game.
Larissa says: "When I started studying for my Personal Trainer certification I realized that some of the things I was doing while pitching didn't correspond with what I was learning about body movements.  I knew I wanted to study a pitching method that was based on biomechanics and would relate to what I would be teaching athletes while training them. This is when I came across Denny!  The first time I went down to meet Denny I was amazed with what he was teaching and how much it made sense!  You can tell right away how much time Denny has spent studying how to best utilize a female's body based on her biological strengths.  I could not wait to get to back home and try it out on my students and myself.  I saw immediate results with my students and they all loved the change!

What I love about 'Fluid Dynamics' is that it is based all on natural movement.  Rather than forcing a girl to conform to something where her body does not feel right, this method teaches girls to listen to themselves while they pitch.  This is EMPOWERING.  Every time I went down to study with Denny I came home feeling stronger about this method.  I love sharing everything I have learned!"
Here is what Denny says about Larissa:

Larissa is one of the most energetic and enthusiastic people you will ever meet.  Kids feel like they can do anything when working with her.  Every time we teach a new movement or drill, Larissa wants to try it for herself to make sure she understands, that it works efficiently, and that she has a total mastery of it so she can teach it well.  When we are doing  a camp or clinic and a kid is struggling with something, I am completely comfortable turning her over to Larissa, knowing she will return in just a few minutes better than before.  Larissa gets results and pitchers bond with her instantly.
Here is what Parents are saying about Larissa:

My eleven year old daughter has been pitching competitive travel softball since she was eight. She's started out learning a style similar to Tincher Fluid Dynamics in CT that carried her through her first 2 seasons, but her coach moved away and nobody else knew this style in our area so I tried to help the best I could as any parent would. As fate would have it my career took us from CT to GA, turns out we had a family friend in GA that had their older daughter in the Tincher system and was excelling in the circle as a result. The facility is Today's Faces Academy in Buford, GA. and is exclusively Tincher taught, her new coach was Angie Buckem. Angie and Tincher Fluid Dynamics took my daughter from a big strong kid that got by on muscling the ball past kids to a pitcher that's loose and fast.
Before learning Denny Tincher's system our daughter would tell us she was often sore after pitching regularly, but after learning the Tincher system she would ask us "why am I not sore after pitching anymore?" and "when is the next game?!" It's because the Tincher system teaches fluidity and proper mechanics…Technique equals power, speed and spin. We spent the year learning Fluid Dynamics from Angie and Denny during a guest appearance in GA and the more Jo learned the better she pitched.
We moved back to CT at the end of the year and by the time we left she was throwing harder and faster with less effort and she came to GA with only a fastball, but left with a fastball, change-up, Tincher Drop-ball and Drop-curve and can throw them all for strikes. When we left I was very concerned going back to CT after learning the Tincher ways in GA without a coach for her to continue her training, Angie found a Tincher colleague in NY by the name of Larissa Porcelli.
Angie and Larissa talked and set it up so that when we got back to CT we could start training again. The first lesson with Larissa was like we'd been working with her all along because of the continuity of the Tincher Fluid Dynamic system. After only working together for 5 months Larissa has already taken her to the next level as a pitcher. She added a screwball since working with Larissa and has her heart set on learning The Tincher Rise-ball next. Larissa challenges her students physically and mentally and the kids have a lot of fun in the process. I couldn't be a happier parent to have found Tincher Fluid Dynamics and it's awesome coaches, that are gonna help our daughter reach the softball pitching stars she's aiming for. Thank you Denny, Angie and Larissa.
Anthony LaSita