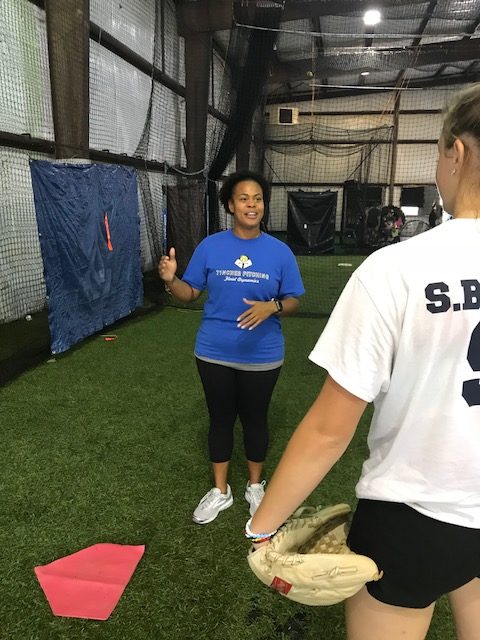 Faline Brown
Bunker Hill, West Virginia
Faline Brown graduated from Musselman High School where she played all 4 years of softball. During that time she pitched and played 1st base she made All- Journal Team, All-Panhandle Team, and All-State Second Team
She then attended Hagerstown Community College for two years where she pitched and was named 2006-2007 first team all Maryland JUCO conference. In 2007-2008 she was named First Team All-Conference and to the First Team Region XX All-Tournament Team.
Faline then received a scholarship to play at Bowie State University where she led the team to a CIAA conference title, CIAA eastern division title and went on to earn a spot in the NCAA Atlantic Region tournament.  The next year she earned a spot on the CIAA All-Tournament Team and the last year went to her final CIAA conference champion ship and to runner-up in the eastern region championship game.
Faline also has experiences coaching at the travel level and at the high school level.
This is what Faline has to say about joining our group:

"When I first started giving pitching lessons, it was all about what I had learned growing up.  As more people around my town began to come to me, I realized I was stuck teaching the same things and not really getting the results that were expected from the amount of work that was being put in by the students. I then had a mother come to me to ask about Denny Tincher. She gave me some information on it and I was like sign her up.  She then came back to the next session, and when talking to her and her mother, I was eager to learn more. At the time I explained to her mother I couldn't help her because I had no idea what she was talking about.

A few months later I decided to reach out to see if I could become a certified instructor. During this time I was absolutely amazed by what he was teaching, how girls have come to him injured and was able to return back to the game pain-free and more healthy and the best part was seeing how girls transformed throughout the different sessions. From that point on I knew I wanted to be a part of this great organization and that I wanted to be able to teacher a healthy pitching style and help players develop to the best of their ability".
This is what Denny has to say about Faline:

Each time we are together, Faline is excited about new and better ways we are developing to help these young ladies.  She comes early, stays late, and asks a ton pf questions to assure that she has a complete grasp of the things we are doing.  Nothing is more important than someone with this type of passion.