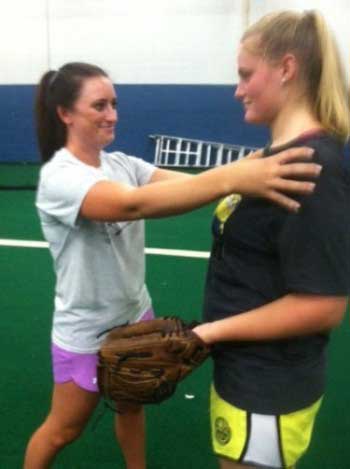 Brooke Wilkins
Fayetteville, North Carolina
Wilkins was a top player in high school softball for the state of Delaware. She continued her career and played for Wilmington University. After college she began coaching on the recreational and travel level. She enjoys giving back and teaching the game she grew up loving.
Brooke says: "I learned about Denny through my sister Nikki Thomas, while she was working as a Certified Tincher Instructor. I saw first hand how the fluid dynamics style was making enormous improvements in her students. I loved how every warm up, drill, and body position had a specific purpose. My favorite thing was that we were teaching these ladies how to pitch like a girl! Encouraging them to use their body in the most efficient way as possible. My first opportunity to meet Denny truly solidified my love for the style and had me eager to learn more! I could not be happier to begin my certification process and become apart of a amazing group that was changing the world of pitching for the better." 
Here is what Denny says about Brooke:
Every Instructor brings special qualities that make us better as a group. It is fun to watch Brooke interact with students. They are drawn to her, they relate to her extremely well, and they seem eager to please her. Brooke instills a confidence in kids that they can reach higher than they ever dreamed. She grasps concepts quickly and easily and knows exactly how to phrase things in a way that means the most to kids. We love having her in our group.