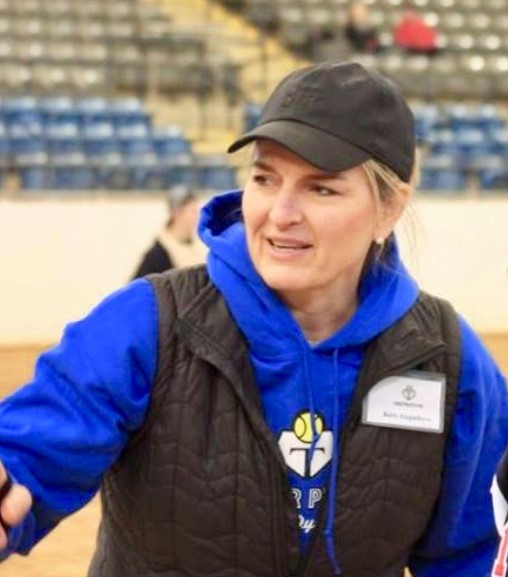 Watching Meghan Vrotsos (a Tincher instructor) in my gym for many hours over several months, I loved what I was seeing. Meghan was constantly asking pitchers, "How does that feel?" Being a former pitcher myself,  I was intrigued with everything that I was hearing.  As I watched lesson after lesson I was filled with sadness and hope. It broke my heart to know I could have helped my own daughter who pitched nightly with pain, year after year. After her freshman year at the state tournament, we learned she had a torn labrum which required a very painful reconstructive surgery which kept her from pitching her sophomore year. I know deep in my heart if I could have taught my daughter the Tincher techniques she would have thrived pain-free on the mound. I am also filled with hope that I can help other pitchers avoid unnecessary painful surgeries by teaching the fluid dynamics that are the basis of the Tincher pitching method.
The more Beth learned about Tincher Pitching, the more she was drawn to the organization:
The other thing I love about the Tincher pitching is the wealth of knowledge available through the network of Tincher instructors across the country. Instructors work together to share their expertise at a moment's notice.
I have been a special needs teacher in the classroom for many years and I continue to learn every day. As a special education teacher, I design and write plans daily that are individualized for each student. My Tincher lessons get the same individualized attention. I work with each pitcher to develop a plan to become the best pitcher she can be.
This is what Denny has to say about Beth:

Beth knows this game.  She has seen fads come and go, so she knows the difference between hype and substance.  She listens carefully, analyzes each movement, and only moves forward when she is convinced that she knows the best possible way to help the student.  Once she is has reached that point, she brings an unparalleled enthusiasm and confidence to each pitcher, helping her believe she can do great things.  Beth contributes so much to our organization and we are happy to have her involved.