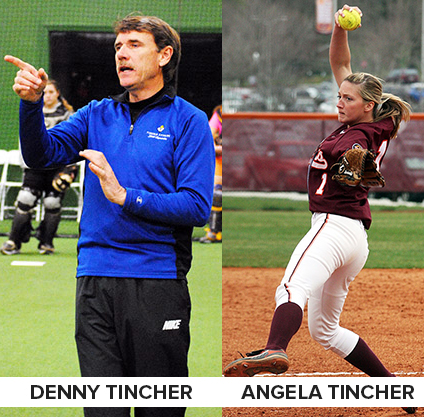 In a sport where dominating pitchers tend to stand well over 6-feet tall, people often ask how a pitcher like Angela Tincher, just 5'7" could pitch at speeds around 68 mph.  Along with her velocity, Angela was able to create dramatic movement on the ball, establishing herself as one of the top pitchers in the college softball record books.
It began when she was a little girl who wanted to try softball in a small Virginia town.  She was not big or athletic, but loved the game and she wanted to be part of the action.  She begged her father to teach her to pitch.  Since there were no pitching instructors in the area, her father thought it would be fun to learn about this strange motion together.  Denny Tincher began a study that would last a lifetime, going to college games to video great pitchers, studying videos of top pitchers in the College World Series, and simply working closely with his daughter to make sure she felt fluid, natural, and explosive.
With high goals, strong body awareness, and the will to win, she began to excel.  Angela Tincher went on to become the 2008 College Player of the Year. Angela stunned the world in 2008 with a no-hitter against the U.S. Olympic Team, had the lowest ERA in the country for two consecutive years, and finished her career as one of the top 3 in NCAA record books for total strikeouts, as well as average number of strikeouts per game.  She led her team to the College World Series, went on to play professionally in America and Japan, and along the way sparked a dream within her father, Denny, to find ways to help other pitchers break down barriers that hold them back.
It was not long until pitching instructors in many states noticed the huge difference Denny was making in their students at camps and clinics.  Those instructors began to ask if they could study with him, and an idea was born: to gather people with a similar passion, with great curiosity and creativity, with strong softball backgrounds, and who would work together to study and research ways to change pitching in America. 
Fast forward to today:  Scores of college pitchers come out of the Tincher Pitching organization every single year, and their impact is felt in every division of college softball right up to the College World Series. 
This amazing team of Certified Instructors expanded to deal with other issues pitchers face, like injuries, strength training, and even the mental game.  You can read more about these incredible professionals on our Instructor page.  The training they receive is thorough, intense, and personal with Denny mentoring every step of the way. 
If you have the desire to reach goals others say are unobtainable, perhaps you have reached a plateau, or feel you have a lot of untapped potential, contact one of our Certified Instructors today. We are Changing Pitching in America!
"I've been working with Denny since I was about 13 years old. He has always been there for me through the ups and downs of my career and has always led me back to good mechanics! Now that I'm out on my own as a professional and member of Team USA, Denny has helped me back on the path of reaching my highest potential while prioritizing optimal and healthy mechanics. I'm 23 years old and I still love working on new pitches and things with him every time I see him! I feel like this is only just the beginning, I can't wait to see where I can end up with him helping me! I am so thankful for all the years and time he's spent with me." -Carley Hoover 
***2 time All-American for LSU, 3 WCWS appearances, current member of Team USA, current member of Scrap Yard Fast Pitch, current member of Denso (Japanese Softball League)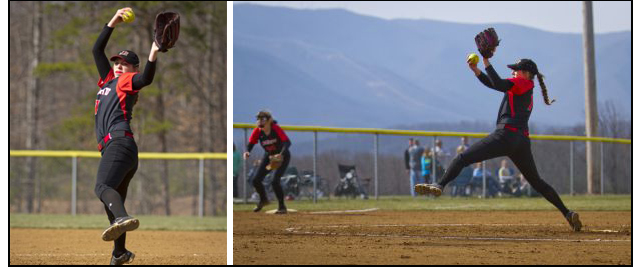 "Our daughter was 11 years old when she first met Denny at a softball camp.  At the age of 13, she began seeing Denny and certified instructor Brian Hensley on a regular basis.  Denny's 'fluid dynamics' of pitching and his constant learning and expanding his knowledge base of pitching is why he is one of the best. Our daughter has pitched injury free and has grown tremendously in her pitching from the beginning and we couldn't be happier.  They don't believe in doing it one way because "it's how we've always done it"; they're always looking to make Tincher Pitching better to make their pitchers better."   Roger & Lisa Harris, Forest, VA ***Daughter accepted D1 ACC scholarship at age 15
"At the age of 14, our daughter began to see Denny when she decided it was time to follow her heart and dreams of pitching at the D1 level.  We were faced with the challenge that our daughter dreamed big, yet was not built like a D1 pitcher (as she was 5' 4" and 105 lbs.).  From the first email to the first lesson, it was clear that Denny has a special gift to share with others; the balance between providing those hungry to learn with information, to understanding how to communicate with young ladies to bring out the best in them.  He has the ability to read the pitcher (including her inner fears), relates to them on a special level, and teaches them the fluid dynamics of pitching.  We have watched our daughter increase her speed by 6-7 mph, gain movement, and strengthen her confidence to help her reach her goals.  We had many heart to heart talks on our 4 hour drive one way to Roanoke, which always ended up with wise words from Denny that our daughter took to heart.  In the fall of 2018, she accepted an offer to a D1 school where she will be the student-athlete she dreamed of two years ago.  Denny's ability to hold the pitcher and family accountable is one unique aspect that he brings to each lesson that contributes to the success of each young lady."-Jim and Marcy Ronyak, Germantown, Maryland  ***Daughter verbally committed to a D1 school at the age of 16
"My daughter started seeing Denny when we felt like we had hit a wall and needed a fresh perspective on pitching. In the first lesson he simplified the mechanics of pitching to real world experiences that she could relate to and that made sense to her. By helping her understand the fluid dynamics of pitching she has not only improved her speed and movement on her pitches, but her confidence has grown ten-fold, not just thinking she can play at the next level, but she truly believes with Denny's continued support that she will get there. She looks forward to the lessons and really enjoys Denny's unique way of communicating what they are trying to accomplish." – Mike Decker, Roanoke, Virginia   *** Daughter pitching in the ACC
"My daughter started taking lessons with Denny at 8 years old. She has never been to any other pitching instructor. Working with Denny is the best softball decision that we made.  He taught her the proper mechanics at a very young age and connected us with a qualified strength trainer who understands pitching.  Denny gave her confidence to dream big and to ignore anyone who doubted her. Everything taught by Denny is research based and proven. Every drill he can explain why and teach how it should feel. He has turned pitching into a science.  My daughter had offers from top ranked schools from all parts of the country and recently has accepted her dream offer from her dream school in the SEC. We couldn't have done it without Denny and Tincher pitching." – Brian and Tracie from Riner, VA   ***Daughter accepted D1 SEC offer at 13 years old.


"Tincher Pitching has done wonders for our daughter. Understanding the mechanics of pitching has enabled her to be able to self-correct, pitch pain free, gain confidence, and be able to get the most out of her abilities. Our daughter is not the biggest kid, but Tincher Pitching has helped her to maximize her athletic and mental potential. Tincher Pitching's customized and personalized approach is what makes them rise above every other instructor she's seen. Through the help of Denny, we were able to secure multiple D1 offers and our daughter will be able to continue her love of the game and get a top-notch education through softball." –Jim and Jill-Marie Weaver, Roanoke, Virginia
"We started working with Denny about three years ago. From the first lesson, we knew he was the one to take her pitching to the next level! We have worked with Denny in FIVE states over those three years which shows his accessibility. Within the first year my daughter's speed jumped 3 to 4 miles an hour and continues to climb! Denny's techniques removes the barriers to allow his pitchers achieve maximum potential. She recently committed to a SEC school. We can't thank him enough for not only being her pitching coach but a great friend to both of us!! " – Chris Heath, North Augusta, SC  *** Daughter accepted SEC offer in 8th grade

 
After I graduated in 2012, I started coaching college right away. However, I was finding that all the stuff I had been taught wasn't helping the girls I was teaching! After hours upon hours of study and internet research I started to notice commonalities in pitchers that I liked watching and who were also successful. Clearly, these kids must be coming from the same place.

Eventually, I tracked a girl back to Denny Tincher and Fluid Dynamics. I went to one clinic and I was HOOKED.It's amazing—if you teach girls a style that works with their bodies, THEY LEARN. They IMPROVE. And most importantly, they don't hurt themselves!

If you're a parent or pitcher reading this, and considering trying it out, PLEASE DO. Give it one or two sessions, and you'll be hooked. I wish I had been taught this way to start with, and I'm never going back to anything else.

– Jen Mineau, Three-Time D1 All-American/drafted and pitched in NPF with Akron Racers
After one visit with Denny 10 months ago,  our daughter knew she was in the right place. For years she has been told to "use her legs" but never really understood how she was supposed to do that to make a difference. After one visit, Denny broke it down and showed her how important it was to understand body awareness. We saw her speed increase right away.  Even though totally changing her pitching style has been a challenge,  Denny does a great job in recognizing that and always encourages her to trust the process. She absolutely looks forward to working with him every lesson because she thrives on being pushed, and he recognized that about her right away.  He really pays attention to the small details and that is huge in our daughters progress. We are very grateful for his time! –Alisa Berry, Virginia
"Our daughter starting seeing Denny 2 years ago. They hit it off right away. We could see this new found excitement in her pitching. Mechanics immediately improved and velocity gains came within a few months, not to mention his riseball has taken her to the next level.  Denny's continued support and encouragement has motivated our daughter to be the best she can and to have no limits, and that's why we continue to drive 3 hours one way for lessons." –Mark and Sam Smith  ***Daughter accepted D1 offer within 6 months of first lesson
Our Instructors around the country are getting amazing feedback as well.  Here are just a couple of notes we received:
Thomas Judkins has done a great job with our daughter and her pitching skills.  When we took our daughter to Thomas she had stagnated around 56 mph and had no offers to any colleges.  After nine months with Thomas and Tincher pitching she was throwing 62 mph and was offered an athletic scholarship to Chattanooga State.  We are so very grateful for Thomas Judkins and Tincher pitching.  –Paul Modar
I would consider Jonathon Hon one of the best pitching coaches in the country. His unique ability to observe, correct and instruct make him an elite teacher who fully understands the uniqueness of softball pitching from the ground up. He has helped my daughter tremendously and has given her the confidence to be the best pitcher possible. I am impressed by his dedication to the art and science of softball pitching and his ability to explain the biomechanics of such a complicated human movement. We are thankful and blessed to have access to his expertise and look forward to working with him until her last pitch. —Dr. Darren D. Hancock
Jonathan has been absolutely fantastic with our daughter.  After her first visit she said "when is our next lesson?" Her speed was not increasing before seeing Jonathan and in 1 year he has increased her speed 8-10 mph and her movement is incredible.  In her first varsity start of her sophomore year she struck out 17 batters.  One of the first things Jonathan did was had her focus on what was needed to pitch the ball and none of the extra motions. Now when she pitches she is very fluid and makes it look effortless.–Joe and Lisa Dato

It is God that girdeth me with strength, and maketh my way perfect.  Psalm 18:32