TO SCHEDULE with Ritchie  email to: patriotcoachritchie@gmail.com
Or, call 540-322-7256
To learn more visit his website at:  SIXFOUR3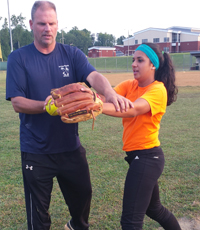 Ritchie Jacobs attended Groveton High School where he played both basketball and baseball. His father, William Jacobs, who was drafted by the Pittsburg pirates as a left handed pitched in 1952, inspired his son to participate in sports. After high school Ritchie jumped right into coaching at local club and travel leagues. Ritchie settled into softball because of his 2 daughters Jessica and Brittany after coaching many different sports over the years. Since he and his father were both pitchers, Ritchie decided to become a fast pitch softball coach and pitching coach. After many years of coaching travel softball Ritchie moved in to the high school softball scene coaching at both Fredericksburg Christian High School and Riverbend High School. Ritchie then decided to further his coaching career by becoming the assistant and pitching coach at the University of Mary Washington.  Ritchie coached on the collegiate level for for 4 seasons but because his daughter received a college scholarship to play softball, Ritchie stepped down in 2014 to watch his daughter play and to become a full-time Tincher Pitching Certified Instructor.
From Ritchie: "After becoming a high school softball coach I tried to learn how to teach softball pitching. Having been a baseball pitcher I learned from my father that mechanics are the most important part of pitching.  I embarked on a very frustrating journey to learn how to teach windmill pitching properly.  But one night I was watching the U.S. Olympic softball team totally getting confused on national TV by a 5 foot 8 pitcher, Angela Tincher. SO, I asked myself, who taught her how to pitch?  I found out her dad was her teacher.  I called him and he answered.   I said, "I want to know what you know about pitching because your daughter is amazing".   He asked what I was doing on the weekend and asked me to "get some pitchers together and I'll come to your house ". That was 6 years ago and I've seen a new light into pitching every time we train. Fluid dynamics is truly the way to pitch. Efficient, accurate, effortless, dynamic, and just a true no -brainer on how to pitch without injury. Denny is a true teacher of the art of pitching and is in it for all the right reasons.  It is the first real change I've seen in pitching in a very long time."
Here is what Denny says about Ritchie: Ritchie seems to get more excited about the game every time I see him.  He loves teaching, is always asking questions about how to do it better, and volunteers to come to many of our events just so he can keep up with new techniques.  He celebrates the accomplishments and scholarships among his students as if they were his own daughters.  Ritchie wants to do it right and that is a quality we love among our instructors.
Coach Ritchie Jacobs has been instrumental in the success of my daughters pitching career. Coach Jacobs has helped bring her from your average travel catcher/pitcher, to a starting VA 6A high school pitcher, to the VA 6A co-Player of the Year, to a VA 6A State Champion, to soon-to-be college pitcher. Coach Jacobs understanding of the Tincher System of pitching, along with his own style and tweaks, makes learning very easy. He communicates well with his pitchers as well as their parents. The important part of the parent knowing as much as the student, really helps when you are at tournaments and thing get off a little. A simple reminder of what Coach Jacobs has taught, could be the difference in a good vs bad outing.
You can tell Coach Jacobs really loves what he is doing. So much so, he quit his day job. How crazy is that?    Its not, if you love what you are doing, you are good at it, and you can see the end results, in your students success. What could be better.
I would recommend Coach Jacobs to any pitcher looking to get to the next level, no matter what that level is.
– Rod Weatherholtz
We met Ritchie Jacobs when my daughter was 14 years old. She is now 21 years old and playing Division I softball. Abby joined her very first travel team run by Ritchie Jacobs, the Rappahannock Rapids. At this time, she was a pitcher in Little League. Ritchie saw talent in Abby and worked the next few years to groom her into a Division I pitcher. During those years, we made countless trips to meet with Ritchie. Abby was excited to work with him, because she always left him a little bit better. He made the pitching lessons fun, and it was apparent from the very start, that he was knowledgeable and passionate about teaching pitching. We are so thankful for all the time and energy he put into Abby. He always believed in her and helped her reach her dream of playing college softball.
-Vicki Morrow
We are so happy we found Ritchie Jacobs!  Our daughter has been training with Ritchie for just under one year. In that amount of time she has blossomed as a pitcher. At just 11 years old she has a very firm understanding of proper pitching fundamentals and form. She has gained speed and most importantly, confidence. Before working with Ritchie she was a 3rd rotation pitcher on her first year 10UC team, to today, pitching in 12UA. Ritchie knows how to hone in on a pitcher's strengths and build on those. He understands that every pitcher is different and does not teach in a "one size fits all" manner. He is patient, kind and caring but also tough in just the right way. He has a way of "speaking " to our daughter in a way that she understands. Ritchie is the perfect combination of serious, funny, professional and patient. He knows when to push her and in just the right way. We've had lessons where they've just talked about the game and her progress and her plans, sometimes girls just need that and he gets it. He is a mental coach as much as a physical one. With Ritchie's instruction our daughter is learning advanced pitching techniques at a young age and he is able to convey them in a way she understands. Shortly after beginning under his instruction she threw her first no hitter at age 10, and she ended her Summer season playing 10UA with 40 strike outs in 32 innings pitched. We know Ritchie can take her to the highest level and achieve all of her pitching goals and we look forward to what the future holds!
-Chris and Sarajane Forbes
My daughter and I first met Ritchie during a Tincher pitching clinic.  A few weeks later we made an appointment to work with him.  That was the best decision we ever made.  Ritchie didn't just tell my daughter to fix things.  Instead he completely broke down her pitch and made corrections one at a time.  His corrections were not just based on pitch movement, but also on the biomechanics of human movement.  In just a few weeks, Ritchie had increased my daughter's speed by 3 mph and created a much more fluid pitching motion.  And if that wasn't enough, Ritchie is also a wonderful person.  He is amazingly positive and very patient.  I just can't say enough good things about him.
-Bonnie King