For lessons with Elise go to the on-line scheduler HERE
Choose from Virginia locations: Winchester, Waynesboro, or Lawrenceville to see lesson availability.
Or,  email Elise directly at: ewalton685@gmail.com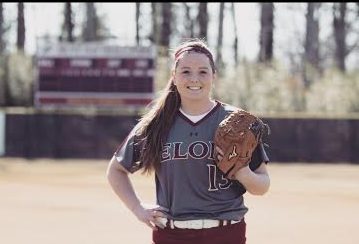 Elise Walton is originally from Lawrenceville, Virginia. Elise has worked with Denny since she was fourteen years old. After a successful high school career, she continued playing at Elon University. Her freshman year she led the Phoenix in innings pitched and strikeouts. The same year she was named to the 2016 CAA All-Rookie Team. Immediately after her freshman season, Elise had shoulder surgery due to a weight room injury. It was a difficult road for her to make it back to the mound. On her way back, she spent time as Elon's designated player. After her sophomore redshirt season, her Junior year she had the fourth highest batting average on Elon's team. Her senior year she was named Second Team All-CAA after getting wins against #8 Georgia and #19 JMU. Elise just graduated from Elon this past May with a degree in Public Health. A week after her college graduation, she continued her education at Murphy Deming College of Health Sciences in Fishersville, VA to receive her doctorate in Occupational Therapy. Over the next three years, Elise will be serving the Staunton, Virginia area along with Winchester, Virginia. On breaks from school, she will also be serving the Southside Virginia Community.
Elise has first-hand knowledge of Tincher Pitching.  Here is what she says:  "I love Tincher Pitching because it is more than a name brand or company. It is a family. I want to support young girl's journeys and make their dreams come true just like Denny did with me.  When I was 14, I came to Denny with two ankle braces, a terrible crow hop, and a glove slap you could hear a mile away. With all that being said, he took a chance on me. The first lesson I had with him I told him my vision and despite the many setbacks over the years, due to instability issues in my body, he never left my side."
As Elise studies O.T., so many things will relate directly to her passion for pitchers:  "My favorite thing about the company is that everything is backed by research. It is important that softball no longer is on the back burner for research and proper technique. Tincher Pitching does not just stand by one way of doing things they are constantly trying to reinvent ways to achieve the same pitch with less torque on the body. For that reason, I will always be a Tincher Pitching supporter/instructor. I have had the privilege of seeing Denny build this company from the ground up, and I cannot wait to see where it goes over the next few years. I am so honored to be a part of the great team of Tincher Pitching instructors."

Here is what Denny says about Elise:  "This is one of the brightest, most driven kids I have ever met.  From very early in our work, I knew that kid would be one of our Instructors someday.  She has a special passion for the game, she interacts with kids in a very genuine way, and knows how to deal with adversity.  She is, simply, the best role model a kid could have.  We are so lucky to have her."