To schedule lessons with Bridget email to: velocitysoftballcle@gmail.com
Or, call 216-309-2218.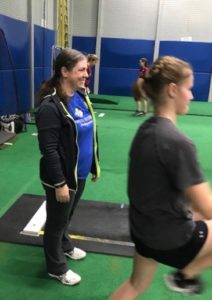 Bridget Ebenger-Balla grew up playing softball in Cleveland Ohio, including 3 trips to the annual ASA National Softball tournament.  However, she didn't start playing fastpitch until her sophomore year in high school and the Varsity coaching staff lacked pitching knowledge.  As the starting catcher, Bridget learned to pitch alongside her pitchers and served as the team's pitching coach. In less than 2 seasons, she helped lead her team to a Sectional Championship and Division runners-up.  After graduating, Bridget declined a preferred walk-on spot to Cleveland State University's Division I softball team and instead accepted a scholarship to play Division I women's tennis at Cleveland State.  Her knowledge of softball and tennis, both explosive power sports, brings a unique perspective to her pitching instruction.
In addition to private instruction, Bridget is working with a local Little League and as the Varsity pitching coach for Rocky River High School.
Here is how Bridget became involved with Tincher Pitching:
"A couple of years ago I was looking to volunteering again and my younger sister encouraged me to get back into coaching.  I had coached her in volleyball and tennis when she was younger; unfortunately, she did not like softball.  She was right, but I decided it was time to get back to my softball roots, so I reaching out to my local Little League.  They asked me to help bolster the pitching and catching because of my experience.  The girls were struggling with pitching and weren't enjoying the game.  However, I had been away from the game awhile and I needed to make sure I was teaching these girls the most current techniques.  In high school, my pitchers suffered through shoulder pain, but we hadn't been pitching long enough to cause irreversible damage.  It is extremely important to me to minimize injury potential; these girls are young and I need them to learn this skill so they enjoy the game safely.  I was truly disheartened until I discovered Denny and Tincher Pitching.

The two things that excited me about Denny's techniques and philosophy were his emphasis on pitching the way the female body is designed, and your physical size didn't matter.  This made sense to me – like most female sports, fastpitch softball was adapted from the men's game.  However, what often gets lost in translation is how to play that sport like a girl.  A girl's body presents unique considerations when executing skills and when done correctly you minimize and/or eliminate injuries while maximizing power and velocity.  But once I started working with Denny, I realized being a part of Tincher Pitching was about so much more.  Denny's knowledge is vast, but his willingness to elevate the game through innovation and collaboration by creating a network of great instructors throughout the country is truly visionary.  My students don't just benefit from my experience, or Denny's, but that of all my Tincher Pitching cohorts."
This is what Denny says about Bridget:  "As an outstanding athlete who understands footwork, quickness, and delivering energy from the ground through the body and into the ball, Bridget had my respect immediately.  She is incredibly studious, curious, and asks challenging questions at all times.  She wants to make sure every movement allows the body to perform at maximum efficiency.  We like her a lot.  Best of all, kids engage with her and do things they did not think they were capable of doing."