The explosive growth of Tincher Pitching has created challenges, which we are turning into opportunity. We have thousands of kids who are seeing the results of our approach, and many more want to work with us, but we cannot handle the load.
Currently we have over 80 Instructors from Maine to Florida to Iowa and we are still growing.  Most of these instructors were once college pitchers who have a passion for learning and sharing better ways to develop their kids. Our Tincher Pitching Certified instructors are the best in the business.  Their students are healthy, successful, they win, and the number of college scholarships they produce has no equal.  But, we are not satisfied.
Together we are constantly learning and evolving.  You see, we think it is a shame that hitting has improved so dramatically in the past 20 years but pitching has gone backward in many ways.  We think it is sad that today's softball scores often reach double-digits, even in the college regionals and super regionals.  Something is very wrong when almost half of all D1 pitchers are suffering significant lost-time injuries every year.
We think pitching can be better.  We believe that you should question many of the theories and drills that have been around since the 1980's.  Something is wrong when almost 30-percent of our new students come to see us because they are in pain.  And, we realize that too many people think a strong wrist snap or weighted ball can solve everything.  Too many people are imitating things they saw at a clinic or read on the internet without doing appropriate research.
If hitting instruction was like pitching, we would still be swinging wooden bats.  Our company loves people who think outside the box and who believe we can do better.   We are looking for more of these types of instructors who are dedicated to the success of kids.  The top college conferences in the country are recruiting our kids as fast as they can get them, but we struggle to meet demand, so we need more Instructors who are passionate about getting results and will join us in the exciting research we are doing.
All of that being said, realize we are incredibly selective about the people we choose.  We prefer former college pitchers or college players who had experience pitching.  We want smart, open minded people, with the right kind of experience and knowledge to challenge all of us to get better.  We do not want dads or moms who are going through pitching and softball with their daughter for the first time.  We cannot even consider it.   It is not personal.  It is hard to replace the experience that only comes from having dealt with all different types of coaches, maybe dealing with injuries, pushing yourself through 6am weight lifting, having been through frustration and success on the field, and having been part of a team through good and bad.  A former college softball player, at any level, has been there, done that, sees things from the player's standpoint, but most of all she has pitched with an entirely different body type and different set of rules than males, so she just "gets the things we teach" quickly and easily.  They give us incredible feedback and keep us on track.
We handle the training, help you market your business, help you with all of the details to become successful immediately.  The training is intense and very comprehensive.  We help you get established quickly so you can focus all of your energy on the thing you love…developing successful pitchers.  And when it comes to that part, you will not believe the knowledge of this group because of its members, from degrees in Exercise Physiology to Physical Therapy, Sports Psychology to Kinesiology, and a whole bunch of people who set various records at their schools.  We have masters of the riseball, drop, curve, screw, and an assortment of changeups, sharing with one another.  We grow kids.
If this gets you excited, and you meet our requirements, we want to talk with you, and we want to learn how you can help all of us get even better.  It bothers us to have to turn down kids.  If you have the right background and want to know more about our Instructor Development Program our email is Tincherpitching@aol.com.
College Coaches-You can read about many of our instructors on our website, but a large number of our instructors are currently coaching in college, so we respect the confidentiality of their schools and do not list their names here.  We welcome college coaches who just want to do a better job with their own pitching staff.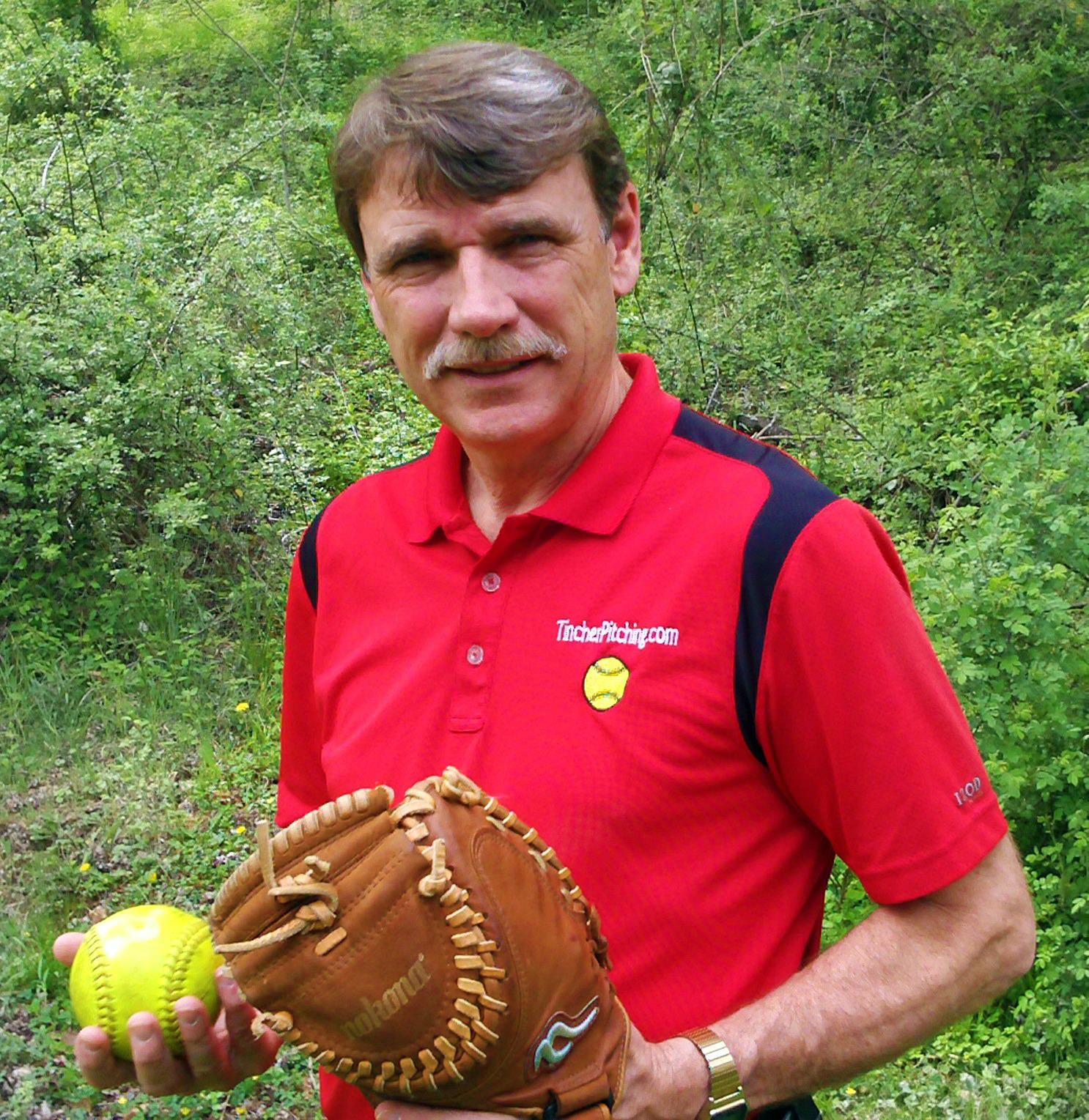 So, why would an instructor want to join our group? Just listen to some of their stories:
I tracked a girl back to Denny Tincher and Fluid Dynamics. It's amazing—if you teach girls a style that works with their bodies, THEY LEARN. They IMPROVE. And most importantly, they don't hurt themselves!
Jen Mineau,Three-Time D1 All-American/drafted and pitched in NPF with Akron Racers  – Philadelphia, PA
Finally! Just what the world of pitching needed! Biggest difference between what I was teaching and this was that this was BETTER!  I was blown away within 10 minutes of watching him teach. Everything just made so much sense.
Nicole Shallcross – Thomas, Warwick, Maryland
It is amazing to see a pitcher realize for the first time her arm circle has the ability to go much faster, or she can stride an extra six inches, and interestingly the pitchers often do not realize their speed has increased because it felt so easy.
Angie Buckem, Atlanta, Georgia
Kids with shoulder and back pain were suddenly pain free, others who had plateaued added several miles per hour and most of all pitching felt powerful and relaxed.
Alex MacLean – Eastern, PA
I knew there had to be a way of pitching that was more efficient and less taxing on the body. Denny was able to fix things I had been working with students for weeks and months on. Technique based on knowledge and SCIENCE – plain and simple, IT WORKS!
Jesse Hutchins, Seabrook, New Hampshire
I found that most pitching instructors simply teach the way they were taught, especially if they were former players. I was plagued with injuries as a pitcher, so I knew there had to be a better way to pitch. When I came across Denny, I realized we shared very similar ideas.
Chrissy Semler, Bridgewarter, Massachusetts
Students took to the technique quickly and pitchers make changes and progress quicker than ever before. It made sense to both myself and my students and lessened the frustrations in the learning process.
Carrie Markham, Phoenix, Arizona
The way Denny incorporated the female anatomy into pitching using Fluid Dynamics was the missing part of my pitching knowledge/philosophy.  Not only is Fluid Dynamics the best way to pitch, in my opinion it's the ONLY way to pitch.
Brett Anderson, Raleigh, North Carolina
Nothing comes close to the results I've seen so far and I look forward to seeing more girls and women succeed as pitchers due to Fluid Dynamics.
Meghan Vrotsos, Madison, Wisconsin
Everything he teaches makes sense and if you've been pitching for as long as I have, you realize that what he is teaching is needed in a big way. It's time for a change.
Natalie Kelterborn, Ontario, Canada
There is no excuse anymore of why girls can not get better! This is the most consistent, fluid and natural way of pitching I have ever seen in my many years of coaching.  I am honored to be part of the next revolution in pitching!
Chris Cauthorne, Richmond, Virginia
For more than two years I have witnessed the tremendous growth of Denny's mission of educating players, parents and now instructors on how the body works, how it relates to making a pitcher more fluid, powerful and injury free— Fluid Dynamics.
Suzy Willemssen, Fairfax Station, Virginia
The Tincher Pitching approach has often made me reflect on what I actually did as pitcher versus what the industry says you should and should not be doing. It has confirmed why I was successful in my own approach to pitching at a young age.
Adrienne Walker-Chery, Atlanta, Georgia
It was awesome to hear how Denny could explain all the reasons behind what he was teaching. You find so many pitching coaches that only teach what they have been taught but have no reasoning behind it.
Austin Murray, South Carolina
Now that I have been studying under Denny's Fluid Dynamics program I have gained the confidence and knowledge to take my students to the elite level.
Thomas Judkins, Suffolk, Virginia
Denny thinks outside the box to find success for his students.
Brian Hensley, Lynchburg, Virginia
You can tell right away how much time Denny has spent studying how to best utilize a female's body based on her biological strengths.  I saw immediate results with my students and they all loved the change!
Larissa Porcelli, New York
Tincher Pitching is a true think-tank of experienced, dedicated, and open minded instructors, who encourage their students to ask "Why"?  My students have never been smoother, healthier and most of all, more confident, because now they know the answer to the question, "why?"
Jonathan Hon, Illinois
Denny was able to paint a complete picture in the most efficient and effective way possible and helped me convey everything that I had danced around for years.
Jenn Newman, Toledo, Ohio
Wow! What a wealth of scientifically-backed information! The Tincher pitching model and the philosophy related to Fluid Dynamics are strong and sound.
Steve Frew, Orlando, Florida
I am extremely grateful to be a part of the Tincher group because they have a unique focus on ensuring that all drills and overall pitching form is as safe and efficient as possible for the female body.
Jamie Reno, Northwest, Ohio
I wanted to learn and be able to teach my students all of the great things I was giving my daughter the opportunity to have, to pitch relaxed, smooth, effortless, and pain free and at the same time gain speed and more movement with every pitch!
Laura Rothrock, Indianapolis, Indiana
They keep it fresh and work to stay educated and updated on the dynamics of pitching, passing it along to their players, and enjoying each girl's growth and development.  Denny and his team of instructors realize that all girls are not the same and should not be taught in a cookie cutter style.
Shelly Farris, Newark, Delaware
My favorite thing was that we were teaching these ladies how to pitch like a girl! Encouraging them to use their body in the most efficient way as possible.
Brooke Wilkins, Sanford, NC
Tincher Pitching focuses on injury prevention and putting in the research to go along with it, no one else pays any attention to the negative effects on the body.
Danielle Fishburn, Northern, VA
After studying with Denny I saw what I was missing the fluidness, the ease and the ability to self correct. It was all there. How can a kid throw loose and be so powerful with what seemed to be effortless. I was enthralled and knew I needed to change my ways.
Heather Pomilio, Long Island, NY
Simply put, it's impossible to study under Denny and even consider teaching the conventional way- it would be a disservice to your students.
Krista Trimble, Columbia, SC
While working at a small D1 school in SC, I recruited a young lady who had the best mechanics I had seen in a long time and I had to find out who she was seeing. I still think she is something special. Her mechanics and her mentality made her a tough pitcher. Denny was her pitching coach!
Kama Tucker, Wilmington, NC
When I first heard of Fluid Dynamics and Tincher Pitching, I was skeptical. After speaking to Denny and then attending my first training session, I was hooked. Many of the kids I coach have adopted this method and have really excelled.
Julia Emery, Stokesdale, NC
As I was training for my certification, my problems were being solved.  I understood the science behind the female pitching motion.
Laurie Mumma, Manheim, Pennsylvania
I remember seeing it for the first time and thinking "wow this is pretty interesting." Then I went to train with Denny the week after I graduated college and remember thinking that I thought I knew everything about pitching but was blown away by all the new information I learned in just the first two days!
Dominique Ficara, Seaford, Delaware
Having a daughter who is starting to play softball, I want to teach her what's best in order for her to perform her best and without the risk of injury. I am constantly learning from other coaches in order to make myself a better coach for my players. I knew without a doubt that Tincher was the best out there for female pitchers.
Blake Bochette, Schaghticoke, NY
Denny is so passionate, so informative and has so much drive to not only make his kids better, but also his instructors. All of my girls have drastically improved both physically and mentally since switching to the Tincher method and I couldn't be more thrilled to guide them on that journey.
Kate Olson, Virginia Beach, VA
his fresh take on pitching, that makes so much sense, is like an "ah ha" moment every time I am around Denny and fellow instructors!
Heather Dobbins, North Augusta, SC
My daughter suffered an L5 stress fracture, directly related to her pitching motion.  After suffering through the discomfort of a back brace for three months and completing physical therapy, we knew we needed to change her mechanics so as to avoid an injury again.  The very first weekend that we started working with Denny, I knew that Fluid Dynamics was the game changer that my daughter and I were seeking.  My daughter is back to pitching without pain, and she is pitching better than before her injury.
Maureen Kleczkowski, Rockaway Township, NJ
When my daughter started pitching and began to have shoulder pain at age 9, I knew I needed to do some research and discover a better way for her and the other kids I was coaching.  That's when my husband and I discovered Denny and Fluid Dynamics.  This group of instructors are always looking for ways to improve the process and helps kids across the country to be successful and do so without pain.
Amy Harper, West Lafayette, IN
When my daughter started pitching and began to have shoulder pain at age 9, I knew I needed to do some research and discover a better way for her and the other kids I was coaching.  That's when my husband and I discovered Denny and Fluid Dynamics.  This group of instructors are always looking for ways to improve the process and helps kids across the country to be successful and do so without pain.
Amy Harper, 
I had the opportunity to chat pitching with a Tincher instructor, and immediately knew this was the organization for me.  We spent hours discussing the science of the fundamentals behind pitching, and why our bodies as females vastly differ from that of the male – hence needing much more specific maneuvering than what was already out there in the realm of pitching.
Leigh Elko, Greater Philadelphia Area, South Jersey
The best part was that there were answers to the "how's" and "whys" of the program. I love getting to work with the other instructors; everyone brings something to the table and we help each other learn. Even though I have been playing for years, there's always something more that both the instructors and the kids can teach me. Every day is a new adventure and I can finally say "I love my job".
Taylor Emmons, Eastern Pennsylvania
[/gss-content-box]
TO INQUIRE ABOUT THE INSTRUCTOR DEVELOPMENT PROGRAM CONTACT
DENNY AT TINCHERPITCHING@AOL.COM