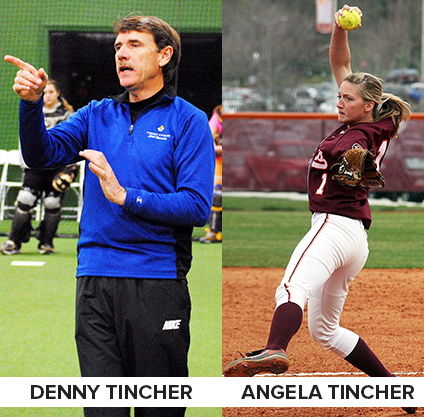 In a sport where dominating pitchers tend to stand well over 6-feet tall, people often ask how a pitcher like Angela Tincher, just 5'7" could pitch at speeds around 68 mph.  Along with her velocity, Angela was able to create dramatic movement on the ball, establishing herself as one of the top pitchers in the college softball record books.
It began when she was a little girl who wanted to try softball in a small Virginia town.  She was not big or athletic, but loved the game and she wanted to be part of the action.  She begged her father to teach her to pitch.  Since there were no pitching instructors in the area, her father thought it would be fun to learn about this strange motion together.  Denny Tincher began a study that would last a lifetime, going to college games to video great pitchers, studying videos of top pitchers in the College World Series, and simply working closely with his daughter to make sure she felt fluid, natural, and explosive.
With high goals, strong body awareness, and the will to win, she began to excel.  Angela Tincher went on to become the 2008 College Player of the Year. Angela stunned the world in 2008 with a no-hitter against the U.S. Olympic Team, had the lowest ERA in the country for two consecutive years, and finished her career as one of the top 3 in NCAA record books for total strikeouts, as well as average number of strikeouts per game.  She led her team to the College World Series, went on to play professionally in America and Japan, and along the way sparked a dream within her father, Denny, to find ways to help other pitchers break down barriers that hold them back.
It was not long until pitching instructors in many states noticed the huge difference Denny was making in their students at camps and clinics.  Those instructors began to ask if they could study with him, and an idea was born: to gather people with a similar passion, with great curiosity and creativity, with strong softball backgrounds, and who would work together to study and research ways to change pitching in America. 
Fast forward to today:  Scores of college pitchers come out of the Tincher Pitching organization every single year, and their impact is felt in every division of college softball right up to the College World Series. 
This amazing team of Certified Instructors expanded to deal with other issues pitchers face, like injuries, strength training, and even the mental game.  You can read more about these incredible professionals on our Instructor page.  The training they receive is thorough, intense, and personal with Denny mentoring every step of the way. 
If you have the desire to reach goals others say are unobtainable, perhaps you have reached a plateau, or feel you have a lot of untapped potential, contact one of our Certified Instructors today. We are Changing Pitching in America!
"We came to Denny with our then 15 yr old daughter who was recovering from a double stress fracture in her back (L5). She had sat her Varsity season as a Sophomore. Her shoulder had also been hurting for about a year. We knew that something had to change or she was not going to be pitching much longer.
From the first email, to the first chat by phone, to the first scheduled lesson we were thrilled. Denny is prompt, clear, committed and he appears to be an answer to our prayers. We have driven 8 hours each way twice over 3 months so far and we would gladly do it again. It has been worth every mile and every dollar. His knowledge and research into mechanics that work for a female body is commendable at the least. Our daughter has had no pain in her back whatsoever and her shoulder pain has been reduced the more she corrects her motion.
Not only have we enjoyed his humor, straight forwardness and love for the skillset, our daughter has increased her throwing speed by 4 -5 mph after being "stuck" for 3 years. It has catapulted her back into the game and onto a top team in Michigan. We have a happy healthy daughter doing what she was meant to do." – Leslie Lenderman, Rochester Hills, Michigan   ***Now pitching D1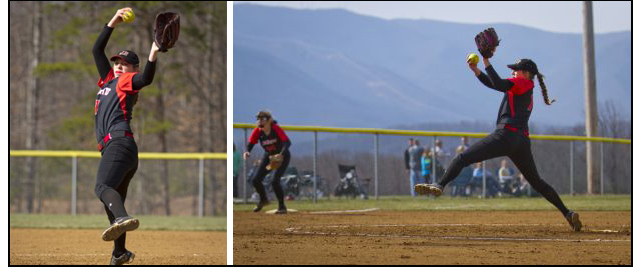 In the first visit with Denny, he got rid of our daughter's chronic back pain. I think she hugged him at that point.  Denny is caring and understanding, yet firm when he needs to be. He works with his students and helps them to be their best instead of 'just do it this way.' She is now faster, her movement is better, more consistent and she is more powerful, and she is HEALTHY! The results are in the stats and she is dominating everywhere we go. Thank-you Denny for what you have done for our Daughter!! We truly feel like you are a blessing in our life. — Greg and Shannon Andrews, Efland NC *** Daughter accepted D1 scholarship at age 13.
"Denny Tincher has been our daughter's coach for the past two years, and her speed, movement and confidence has increased tenfold. Denny's knowledge of pitching and ability to relate to teenage girls is unlike any other coach she has worked with. He has taught her to feel the pitch and use that immediate feedback to self-correct. He is so good at what he does that we have traveled 6 hours each way for a one hour lesson. " – Michael and Margaret Ansbro, Woodstock, Virginia  ***Daughter Pitching D1
"My daughter started seeing Denny when we felt like we had hit a wall and needed a fresh perspective on pitching. In the first lesson he simplified the mechanics of pitching to real world experiences that she could relate to and that made sense to her. By helping her understand the fluid dynamics of pitching she has not only improved her speed and movement on her pitches, but her confidence has grown ten-fold, not just thinking she can play at the next level, but she truly believes with Denny's continued support that she will get there. She looks forward to the lessons and really enjoys Denny's unique way of communicating what they are trying to accomplish." – Mike Decker, Roanoke, Virginia   *** Daughter pitching in the SEC
"My daughter started taking lessons with Denny at 8 years old. She has never been to any other pitching instructor. Working with Denny is the best softball decision that we made.  He taught her the proper mechanics at a very young age and connected us with a qualified strength trainer who understands pitching.  Denny gave her confidence to dream big and to ignore anyone who doubted her. Everything taught by Denny is research based and proven. Every drill he can explain why and teach how it should feel. He has turned pitching into a science.  My daughter had offers from top ranked schools from all parts of the country and recently has accepted her dream offer from her dream school in the SEC. We couldn't have done it without Denny and Tincher pitching." – Brian and Tracie from Riner, VA   *** Daughter accepted D1 SEC offer at 13 years old.

"Our family is absolutely in awe of Denny's abilities as a coach. He is not only the best pitching coach that we've ever seen. He is, quite simply, the best coach that we've ever seen. Since we live on the West Coast, we meet with Denny about twice a year, for 2-3 days each time. You might think that the 2-3 hour lessons each day would be taken at a leisurely pace, but they are each jam-packed with instruction, drills, and spot-on feedback. Denny's approach is remarkable in several ways:
 1) His ability to communicate with young women in a way that is positive and fun, yet also demanding. He works to bring out the best in each young woman.
2) His ability to look at the entire pitch, spot specific errors, and discover the root cause of those errors. Then, he has an entire arsenal of drills, each aimed at developing muscle memory of the right movements.
3) His enthusiasm for learning. He is interested not only in finding out what works for pitchers, but also in finding out why it works. Every time that we come to see him, we aren't just covering all of the old points all over again, we are learning new and better approaches.
4) His insistence on incorporating the entire family into the learning process. He understands that it's the moms and dads who will be working with the pitchers between lessons, encouraging their daughters, holding to them to the standards and commitments that they've set for themselves." – Michael Kristo, Santa Clara, California *** Daughter pitching D1
"Denny has made more of a difference in an amazingly short period of time than any other pitching coach that we have ever had. His lessons always result in an immediate improvement and he is always looking for innovative ways to help that make sense and are easily understood. We sometimes drive a long way for the lessons, but would drive a lot further if we had to." – Tommy Waldrop, Georgia  *** Daughter recently accepted D1 scholarship
"We started working with Denny about three years ago. From the first lesson, we knew he was the one to take her pitching to the next level! We have worked with Denny in FIVE states over those three years which shows his accessibility. Within the first year my daughter's speed jumped 3 to 4 miles an hour and continues to climb! Denny's techniques removes the barriers to allow his pitchers achieve maximum potential. She recently committed to a SEC school. We can't thank him enough for not only being her pitching coach but a great friend to both of us!! " – Chris Heath, North Augusta, SC  *** Daughter accepted SEC offer in 8th grade

 
After I graduated in 2012, I started coaching college right away. However, I was finding that all the stuff I had been taught wasn't helping the girls I was teaching! After hours upon hours of study and internet research I started to notice commonalities in pitchers that I liked watching and who were also successful. Clearly, these kids must be coming from the same place.

Eventually, I tracked a girl back to Denny Tincher and Fluid Dynamics. I went to one clinic and I was HOOKED.It's amazing—if you teach girls a style that works with their bodies, THEY LEARN. They IMPROVE. And most importantly, they don't hurt themselves!

If you're a parent or pitcher reading this, and considering trying it out, PLEASE DO. Give it one or two sessions, and you'll be hooked. I wish I had been taught this way to start with, and I'm never going back to anything else.

– Jen Mineau, Three-Time D1 All-American/drafted and pitched in NPF with Akron Racers
"I am very excited about the progress that my daughter has made with her pitch mechanics working with Denny. He challenges conventional wisdom and teaches a delivery that maximizes velocity and spin. At the same time it is a more natural motion and is far less stressful on the body than the traditional "closed" delivery taught by many today. He also made an instant connection with her and she really looks forward to her sessions with him." – Dave Hoover, Clemson SC  *** Daughter pitching in the SEC
After one visit with Denny 10 months ago,  our daughter knew she was in the right place. For years she has been told to "use her legs" but never really understood how she was supposed to do that to make a difference. After one visit, Denny broke it down and showed her how important it was to understand body awareness. We saw her speed increase right away.  Even though totally changing her pitching style has been a challenge,  Denny does a great job in recognizing that and always encourages her to trust the process. She absolutely looks forward to working with him every lesson because she thrives on being pushed, and he recognized that about her right away.  He really pays attention to the small details and that is huge in our daughters progress. We are very grateful for his time! –Alisa Berry, Virginia
Our Instructors around the country are getting amazing feedback as well.  Here are just a couple of notes we received:
Thomas Judkins has done a great job with our daughter and her pitching skills.  When we took our daughter to Thomas she had stagnated around 56 mph and had no offers to any colleges.  After nine months with Thomas and Tincher pitching she was throwing 62 mph and was offered an athletic scholarship to Chattanooga State.  We are so very grateful for Thomas Judkins and Tincher pitching.  –Paul Modar
I would consider Jonathon Hon one of the best pitching coaches in the country. His unique ability to observe, correct and instruct make him an elite teacher who fully understands the uniqueness of softball pitching from the ground up. He has helped my daughter tremendously and has given her the confidence to be the best pitcher possible. I am impressed by his dedication to the art and science of softball pitching and his ability to explain the biomechanics of such a complicated human movement. We are thankful and blessed to have access to his expertise and look forward to working with him until her last pitch. —Dr. Darren D. Hancock
Jonathan has been absolutely fantastic with our daughter.  After her first visit she said "when is our next lesson?" Her speed was not increasing before seeing Jonathan and in 1 year he has increased her speed 8-10 mph and her movement is incredible.  In her first varsity start of her sophomore year she struck out 17 batters.  One of the first things Jonathan did was had her focus on what was needed to pitch the ball and none of the extra motions. Now when she pitches she is very fluid and makes it look effortless.–Joe and Lisa Dato

It is God that girdeth me with strength, and maketh my way perfect.  Psalm 18:32