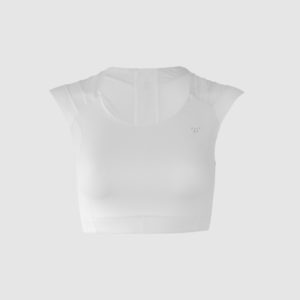 First of Its Kind, Made For You
The only bra that works with your body. The IntelliSkin Essential Bra is designed to support your front with the natural strength of your back. Just like mother nature intended. STAND TALL
We are comfortable in our discomfort. Look in the mirror and all around, you will see rounded shoulders, backs, and heads leaning forward. Muscle imbalance is everywhere. This imbalance is the root cause of bad posture and back pain. IntelliSkin cues your body's natural ability to support itself. It's unlike any other bra, you'll feel the difference as soon as you put it on.
Smart Compression is technical fabric that conforms to your anatomy like an Intelligent Second Skin. Compression means that it should fit closely but comfortably to the body to activate the PostureCue™. Most people can wear two sizes of our shirts. It is a matter of personal comfort and how much PostureCue™ you want. The more form fitting the more PostureCue™. If you like a little less, than opt for the larger size.
+Moderate PostureCue™
+Lycra Sports™ approved fabric
+Illusion power mesh posture panels for improved breathability and posture support
+Fabrifoam shoulder panels for anti-migration
+Ergonomic seams and stretch panels let you move naturally
+Pool safe
+UV 50+ protection
+Moisture wicking
+Anti-odor
+Anti-microbial
+Machine wash cold, hang dry
Available in both black and white color.