To schedule lessons with Krista visit HERE
Contact Krista directly at: primalpitching@gmail.com
Or, call 724 622 9445
Krista offers lessons in the Columbia/Bishopville areas at:
3510 Bush River Road
Columbia, SC 29210
AND
The Bat Cave Softball and Baseball Training
110 East Church Street
Bishopville, SC 29010
Visit Krista's Podcasts "The Krunch Factor"  HERE    combining her background in nursing with health and pitching coach certifications to provide the student athlete with everything they need to succeed outside of lessons.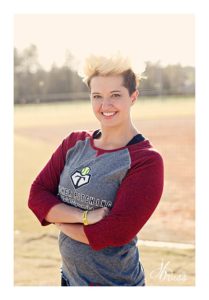 Krista Trimble is a Pittsburgh, PA native recently relocated to Columbia, South Carolina. Growing up, Krista didn't have an opportunity to play fastpitch until high school, and it was during her sophomore year that her team found itself without a pitcher. Although she had a late start, it doesn't mean her fire burned any less and, more than that, she knew things needed to change. By her senior year, she was assistant coaching the first 10U & 12U fastpitch teams in her hometown while giving pitching instruction to girls as young as 8. She played a year of D3 college ball before transferring campuses to attain a Bachelor's Degree in Spanish summa cum laude, and then immediately dived back into school to become a registered nurse while being awarded a scholarship to play D2 ball. Though her life has gone in many diverse directions, her passion for pitching and this game has never wavered, and she is thrilled to be a part of this movement.
From Krista: "After a hiatus from softball, a friend recently sought me out for pitching lessons for her daughter. I wanted to be up-to-date on the most current form and practices, and it's impossible to Google pitching instruction and not come across Denny! After a few telephone conversations with him, my curiosity could not be contained, and I found myself traveling to Hillsborough, NC a week after our first contact. I think it was several hours into my first exposure before I could pick my jaw up from the floor. Largely, everything he taught was different from what I learned AND what I had been passing on. The biggest difference is that Denny doesn't simply instruct. There is a purpose, backed by research and science, for every movement and every drill-a fairly foreign concept in the history of pitching instruction. Moreover, this method is designed with the female body in mind to allow it to perform more efficiently and powerfully without promoting injury. Simply put, it's impossible to study under Denny and even consider teaching the conventional way- it would be a disservice to your students.  As a recently-graduated health coach obsessed with natural body movement, this instruction is critical for healthy, optimal performance. My pre-Tincher student asked me before I first worked with Denny, "Does pitching have to be so complex and awkward?" After studying under Denny, I can enthusiastically reply, "No, it does not."

Here is what Denny says about Krista:  We are absolutely thrilled when health professionals like Krista come on board.  She brings additional knowledge of movement patterns that help us as we continue to search for ways to make kids faster, stronger, better, and to keep them healthy.  You just can't replicate the knowledge and experience of pitchers who have done it on the college level.  Best of all, Krista is the consummate student of pitching, asking great questions and contributing to our organization on day one.  Her personality attracts kids to her instantly and they pay attention, so she gets results.